When you're training and working with the same people every day, romantic sparks are bound to fly. In honor of Valentine's Day, check out these Olympic athlete couples that show there's more than just snow and ice in the air in Pyeongchang this year.
Elana Meyers Taylor and Nic Taylor, Bobsled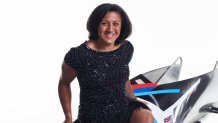 Two-time Olympic medalist Elana Meyers Taylor met her husband Nic Taylor through the sport of bobsled in 2011. Taylor even proposed to Meyers Taylor on the podium of the 2013 World Championships. In 2014, the couple got married in a bobsled-themed wedding, with nutrition-based vows and bobsled training innuendos.
Meyers Taylor explained how much her relationship with Taylor means not only in her sport but in her personal life.
"He has pushed for me several times as a brakeman on my four-man sled. He serves as my best friend, teammate, coach, sports psych, mechanic, sounding board and everything in between," Meyers Taylor told NBC Olympics.

The couple will be looking to secure gold medals together in the Winter Olympics this month.
Alexa Scimeca Knierim and Chris Knierim, Figure Skating
Figure skating partners Alexa Scimeca Knierim and Chris Knierim first met through their coach, Delilah Sappenfield, in April 2012. The relationship blossomed after Scimeca Knierim ended her figure skating partnership with Ivan Dimitrov.
The two figure skaters had immediate chemistry and teamed up to win the U.S. National Title in 2015. They were married a year later in 2016 with Sappenfield as an officiant.
Scimeca Knierim credits her husband for supporting her throughout her career and through a life-threatening sickness on the morning of their wedding. She had been up all night vomiting into a toilet while Knierim held her hair back.
"If it wasn't for him, I don't think I would have been able to survive or find out the problem, honestly," Scimeca Knierim told NBC OlympicTalk last year.
With the help of her husband and family, Scimeca Knierim was able to recover and is now stronger than ever before.
"It's kind of a blessing, I think because now we don't take our training and lives for granted. We're just excited for the future and grateful the worst is behind us." Scimeca Knierim said.
The Knierims are the first married couple to compete in skating pairs at an Olympic Games since 1998.
Jamie Greubel Poser and Christian Poser, Bobsled
Team USA's Jamie Greubel Poser and Germany's Christian Poser are competing for different countries in Pyeongchang, and their love has overcome a language and distance barrier.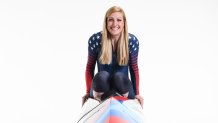 The couple met at a World Cup Race in 2012. At first, they couldn't even talk to each other, as Greubel Poser didn't know German and Poser didn't know English.
They used Google Translate to communicate, and were married in 2014 after the Sochi Olympics.
Greubel Poser relies heavily on technology to communicate with her husband throughout the year and sometimes goes months without seeing him in person.
"In the very beginning, when we would be talking or catching up I'd have to be sitting down at my computer or opening up Skype to making sure I had a good connection," Greubel Poser told NBC Olympics.
They both hope to reach the podium in their second Olympics and understand the sacrifice needed in the relationship to make their dreams come true.
"It works because we get it. I don't have to justify or explain why I'm doing things. Because we are both in it and going after the same things, it just works." Greubel Poser said.
Jamie Anderson and Tyler Nicholson, Snowboarding
Jamie Anderson, who won her second gold medal in the women's slopestyle on Monday, and Canadian Tyler Nicholson are ready to take on the slopes of Pyeongchang together.
The two snowboarders met in a Canadian bar and became friends five years ago. They just recently celebrated their three-year anniversary.
Anderson calls her boyfriend a huge inspiration to her and one of the snowboarders she talks to the most.
"He is very supportive and a big part of my life. We push and train each other and it makes it that much more fun," Anderson told NBC Olympics.

Nicholson finished seventh in the men's slopestyle event.
Madison Chock and Evan Bates, Figure Skating
[[473197123, C]]

Figure skaters Madison Chock and Evan Bates found out that their relationship with each other took some time to grow. They went on their first date when Chock was only 16 years old but it wasn't until they paired up as figure skating partners in 2011 that signs of love began to show.
Chock and Bates have won two U.S. silver medals, a World Team title, and gold in the U.S. Figure Skating Championship. They made their relationship official about a year ago.
Chock feels that her romance with Bates has had a positive effect on their skating relationship as well.
"We've always gotten along so well,"Chock toldNBC Olympics."Skating together is something that we love doing, and we love doing it together. Now we're together on and off the ice and it makes it even more powerful. It feels completely genuine and real."
The duo is looking to take home gold for the U.S. in Pyeongchang and show the judges the incredible chemistry they share both on and off the ice.
Mariah Bell and Romain Ponsart, Figure Skating
Figure skater Mariah Bell started dating French skater Romain Ponsart two years ago.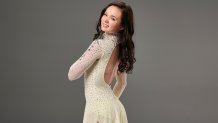 Bell, a 2017 World Championship bronze medalist, is looking to secure her first medal in the Winter Olympics this year and says her boyfriend is one of her greatest influences in her sport.
"He trains with me every day and always pushes and motivates me to be better," Bell told NBC Olympics. "Since he skates also he can understand me so well because he is doing the same thing as me every day."
While Ponsart won't be competing in Pyeongchang, he will be in the stands cheering on Bell as her number one fan.
At Least One Olympian Is Still Looking for Love in Pyeongchang...
U.S. Alpine skiing star Lindsey Vonn tweeted that she was single and looking for a Valentine.