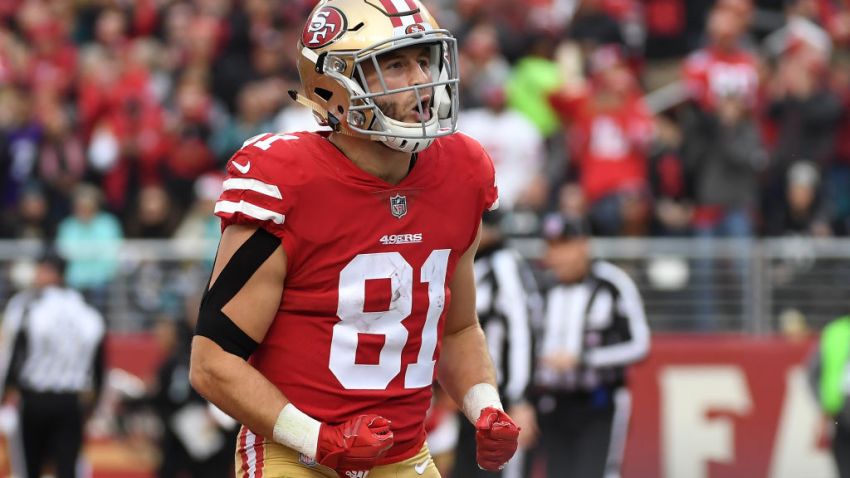 Every NFL team has to deal with injuries, a fact of life in a sport where 200- to 325-pound men crash into one another on every play.
But for the 49ers right now, the list of walking wounded is long.
As the 49ers get ready to take on the Packers Monday night in Green Bay, several key players sat out practice Thursday and their status is up in the air for Monday, when San Francisco badly needs a victory after a 1-4 start. Eight offensive starters, in fact, couldn't participate Thursday, including three members of the offensive line (tackle Joe Staley, center Weston Richburg and guard Mike Person), two wide receivers (Dante Pettis and Trent Taylor) and running back Matt Breida.
Those offensive players join starting quarterback Jimmy Garoppolo and running back Jerick McKinnon, already out for the season on injured reserve.
Niners head coach Kyle Shanahan knows he'll get some of those players on the field Monday, but isn't sure which ones. Certainly, it will be hard to have an effective offense against the Packers with so many front-liners absent.
"I just listed eight guys on offense who aren't going today," Shanahan told reporters Thursday. "That's eight out of 11. There's already two on IR, which would make it 10 out of 11. That's something I haven't been a part of much in my entire career."
Two pieces of good news were that Breida now looks more likely to play and that wideout Marquise Goodwin is practicing again and appears on track to be on the field against the Packers. But Taylor now could be out a couple of weeks. The second-year wideout had offseason back surgery and still isn't 100 percent.
"I think it's been concerning all year," Shanahan said of Taylor's health. "Any time you have a surgery on your back, whether they say it's a big deal or a little deal, always when you're dealing with your back it affects things. It's not just your back always. It can trickle down to other parts of your body."
NFL oddsmakers list the 2-2-1 Packers as 9½-point favorites. The 49ers are scheduled for a 5:15 p.m. kickoff Monday in Green Bay.