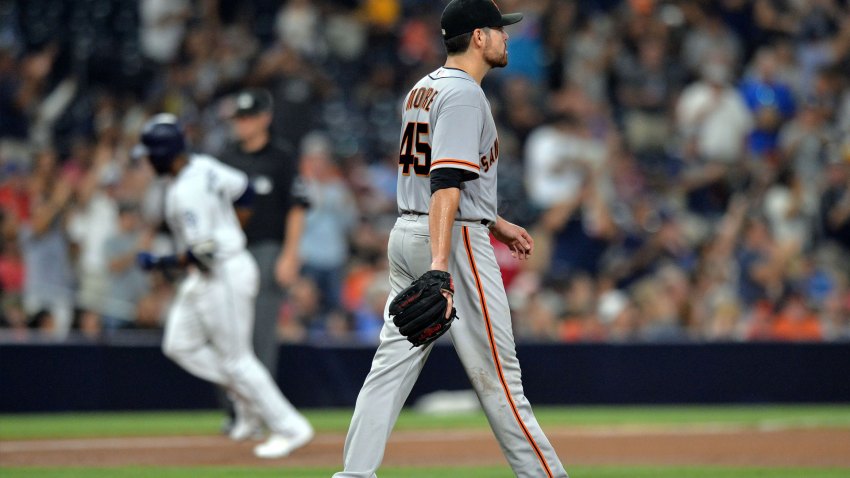 SAN DIEGO - This season has been a slow march to the finish line, but the end result came quickly Tuesday.
Matt Moore gave up two homers in the fourth, wiping out a modest early lead and digging a hole for a team that's not built for comebacks. The Giants lost 6-3, falling to 5-10 against the Padres this season.
As September approaches, the Giants are six games back of fourth place. Yikes. Anyway, here are five things to know from Tuesday's game …
-- Moore's run of good starts came to a swift end in the fourth inning. Jabari Blash led off with a deep homer to left and Manuel Margo hit a three-run shot four batters later. Moore was pulled for a pinch-hitter in the sixth. He gave up at least five earned runs for the eighth time in 27 starts.
-- The Giants should have turned this into much more of a back-and-forth. They left three runners on in the first, with Jarrett Parker's double play mixed in. They had three hits and a walk in the second and the Padres made two errors, so that probably should have been a much bigger inning, too.
-- Joe Panik made a diving stop in the first to rob Carlos Asuaje and later hit a solo homer, his second in two nights. He's shown no effects of that concussion, which is good news given the way they have lingered for others.
-- Jose Pirela robbed Pablo Sandoval of his second homer since he came back to the Giants. The ball appeared to be headed inches over the fence at the 336-foot mark right near the left field line.
-- The press box dinner included chicken strips AND wings. I might spend the night in the press box. Check back tomorrow!
Copyright CSNBY - CSN BAY