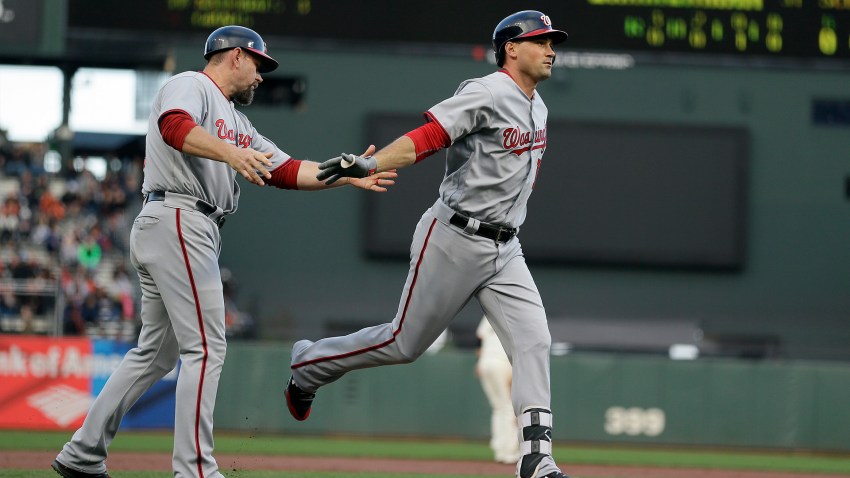 SAN FRANCISCO - The kid who raced The Freeze on Thursday night blew a tire as he hit center field, hobbled for about 50 feet, and then went down for good. He still had a better night than the Giants.
They blew all four tires in the fifth, giving up eight runs in a nightmare frame that turned a two-run lead into a 12-11 loss. The Giants finished 1-7 on the swing through Denver and Atlanta, and they have lost 18 of their last 23 games.
But, let's face it, you're here already. So here are five more things to know from the night …
-- Matt Cain was hanging in there until the fifth, and then … disaster. The inning started with Brandon Phillips' solo shot that cut the lead to one. Then it went single, single before Cain was relieved by Bryan Morris. After that, it was single, single, single, sacrifice fly, homer, flyout, walk, single, pitching change, single.
-- Morris had to wear it in the fifth because the bullpen is short, and boy, did he wear it. Morris gave up five runs on five hits and a walk. His ERA jumped two full points in two-thirds of an inning.
-- Kyle Crick made his MLB debut in that horrendous bottom of the fifth. The Giants surely did not want to bring him in with runners on, but Bruce Bochy had no choice when Morris blew up. Crick's first pitch was a 95 mph heater. After giving up a hit in that inning, he pitched a perfect sixth and perfect seventh. Crick topped out at 97 mph. Pretty, pretty good stuff there. He needs to get a long look the rest of this year.
-- In the second, Buster Posey hit a ball that went 311 feet and had a hit probability of just six percent. Cain hit a ball 357 feet. Posey got a homer that bounced off the top of the wall; Cain just got a double. Baseball is such an odd game.
-- On a positive note, Javi Lopez, who calls Brandon Belt "Sparky," repeatedly referred to Posey as Gerald. He's going to be good at this job.
Copyright CSNBY - CSN BAY