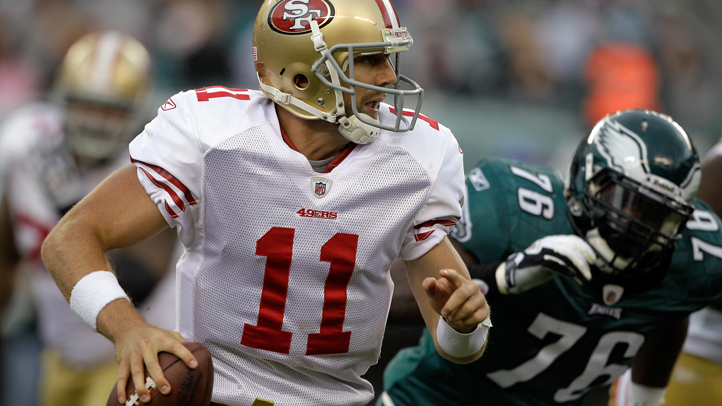 With the NFL's free agency period kicking off Tuesday, it appears the 49ers and Alex Smith may be on the verge of reaching a deal to keep the quarterback in San Francisco.
Cam Inman of the Bay Area News Group reported Monday morning that Smith and the 49ers may be close to announcing a three-year deal to return to a team that he led to the NFC West title in his best of seven seasons in the league.
Though reports indicated last week that a sticking point between the two sides might be the length of a deal – that Smith might be looking for a four- or five-year agreement while the 49ers were looking for a deal for fewer years – Inman reports a three-year deal may be imminent.
Inman notes that Smith told CBS 5 Sunday that he was not asking for five years, and that details of a three-year agreement are being hammered out.
The San Francisco Chronicle's Eric Branch reported Monday morning that Smith said rumors of an impasse because he was asking for a longer deal were "completely false." Smith said he's satisfied with a three-year deal the 49ers have offered, which means the quarterback could sign a deal Monday or before the kickoff to the free agency period at 1 p.m. Tuesday.
Last summer, Smith signed a one-year deal to return to San Francisco. That deal was for $6.5 million, with $2.5 million in incentives.
In relation to a new deal, Smith told the Arizona Republic Saturday that, "it will get done" and, "it's just a process."
"I'm not disappointed about anything," Smith said.
Branch surmises that Smith may have grounds for a big raise, noting the Jets re-signed quarterback Mark Sanchez to a three-year, $40.5 million extension Friday – and Sanchez didn't have nearly the season Smith had. Smith, he notes, had a better completion percentage, quarterback rating and yards-per-attempt average and committed eight turnovers in 18 games (including two playoff games) while Sanchez had 26 in 16 games.
After the recently concluded season, Smith indicated he wanted to return to San Francisco, and 49ers coach Jim Harbaugh said he wanted Smith to remain at QB for his team, saying the entire organization was in "lock step" about Smith coming back.
If that happens – as it now appears it will – the Niners can cross off one major item on their offseason to-do list, and start focusing on free agency and preparation for the draft. They still have to upgrade at wide receiver (former NFL star Randy Moss, 35, was due to work out with the team Monday) and see what plays out with Pro Bowl cornerback Carlos Rogers who, it appears will be allowed to test free agency.