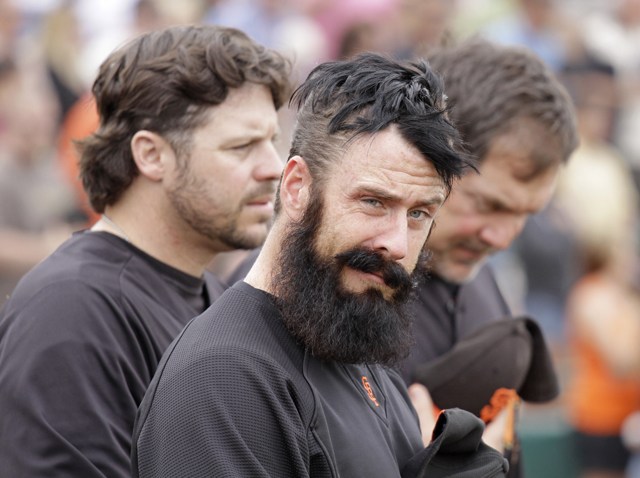 Sports Illustrated has lots of love for the Bay Area when it comes to 2011 prognostication. SI predicts both the Giants and the A's will win their division.
The complete explanation won't be on line or on news stands until Wednesday, but SI predicts the team will end the season with a record of 91-71.
Writer Tom Verducci explains in a separate article what it would take to repeat a championship and why for the past 10 years it hasn't been done.
The magazine has the Giants meeting the Red Sox in the World Series, but losing in the end to the team from Boston.
Here are a few more predictions:
Tim Lincecum is the NL West's best bet for the Cy Young
Brandon Belt is the NL West's "Rookie to Watch"
Best Case Scenario: Pablo Sandoval (career-low .268 average in 2010) and Barry Zito (nine wins) rebound and energize a roster that hasn't changed much. That and the stellar staff are enough for a postseason return.
Worst Case Scenario: Injuries in the rotation leave them with even less margin for error than last year; and overworked bullpen and an offense that is again average make 91 wins a stretch.
Here's how Sports Illustrated sees the season shaking out for all the teams:
| | | |
| --- | --- | --- |
| AL EAST | AL CENTRAL | AL WEST |
| Red Sox (100-62) | Twins (90-72) | A's (87-75) |
| Yankees (92-70)* | Tigers (89-73) | Rangers (85-77) |
| Rays (84-78) | White Sox (84-78) | Angels (77-85) |
| Orioles (78-84) | Indians (70-92) | Mariners (63-99) |
| Blue Jays (77-85) | Royals (67-95) | |
| | | |
| NL EAST | NL CENTRAL | |
| Phillies (93-69) | Reds (89-73) | Giants (91-71) |
| Braves (89-73) | Brewers (84-78) | Rockies (90-72)* |
| Marlins (85-77) | Cubs (81-81) | Dodgers (82-80) |
| Nationals (75-87) | Cardinals (78-84) | Padres (76-86) |
| Mets (74-88) | Pirates (65-97) | Diamondbacks (71-91) |
| | Astros (64-98) | |
| | | |