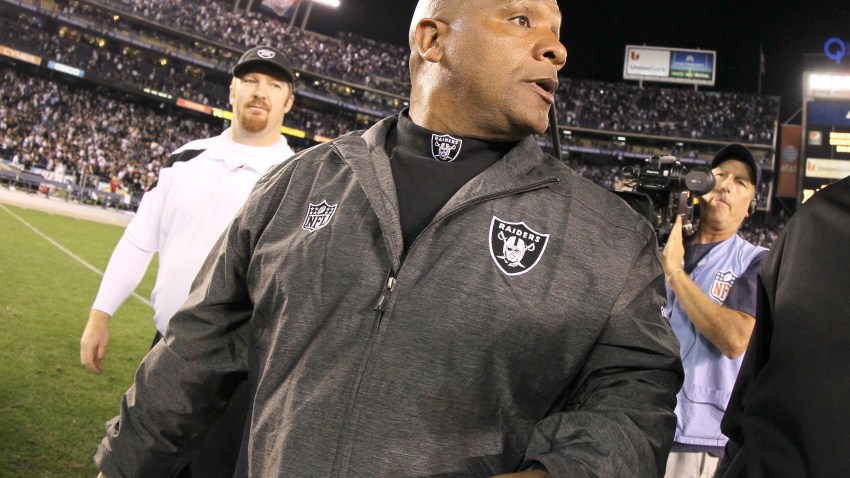 Even as rumors swirl around the Oakland Raiders that several assistant coaches may soon pay for the team's failure to make the playoffs, head coach Hue Jackson is being criticized for his role in the team's collapse.
The San Francisco Chronicle's Vittorio Tafur reported Tuesday night that the Raiders denied a radio report earlier in the day that defensive coordinator Chuck Bresnahan and assistants Greg Biekert, Rod Woodson and Kevin Ross all had been fired.
It makes sense, certainly, in that Jackson made no secret after Sunday's loss to the Chargers and in his Monday news conference that changes need to be made defensively, and that he was disappointed in his defensive coaching staff.
As of Wednesday morning, however, the team had not announced any firings.
As for Jackson, some are wondering why the head coach is ranting at others – his players and coaches – for the team's collapse when they believe he should be held accountable.
After all, Jackson is the head honcho and the Raiders were sitting at 7-4 – with the playoffs easily attainable – before losing four of their last five games to finish 8-8 and out of the postseason yet again.
Adam Schein of Fox Sports Tuesday came out hard against Jackson, taking him to task for paying too high a price for Carson Palmer, for turning off his players, for failing to instill discipline in a team that set NFL records for number of penalties, for playing linebacker Rolando McClain in the same week he was arrested in connection with a firearms incident and for failing to come up big at the end of the season when a playoff spot was there for the taking.
Schein, who wrote Jackson "was blinded by his own ego" this season, also wrote that Jackson's postgame rant after the loss to the Chargers "showed Jackson's power trip spiraling out of control."
Wrote Schein, summing up his reactions to the Raiders' collapse and Jackson's rant that he was "pissed at my team" for not beating the Chargers Sunday: "Hue, really? You should be pissed at how you handled your first year coaching the Raiders. You are majorly responsible for the Raiders not making the playoffs.
"Hopefully, (owner) Mark Davis and (CEO) Amy Trask can hire a legit football man to be the general manager, who won't treat draft picks like bubble gum. And, hopefully, they pick someone who can help Jackson get a clue. The fans deserve it. The players deserve better."
One report, by Mike Florio of Pro Football Talk, indicates Jackson could be in for a rough and tumble offseason in relation to the team's search for a new general manager to fill the void left by the death of Al Davis.
Florio reported that former Packers GM Ron Wolf may be involved in the Raiders' search, and that Wolf is advocating Reggie McKenzie, the Packers director of football operations, for the job. And, that McKenzie would bring along Eliot Wolf (Ron's son), who is Green Bay's assistant director of player personnel.
In a new world order for the Silver and Black, would Jackson fit into a new power structure with McKenzie?
Wrote Florio: "If Davis thinks Jackson can't, perhaps the right move for the franchise would be to use this occasion to hire a new coach, too."