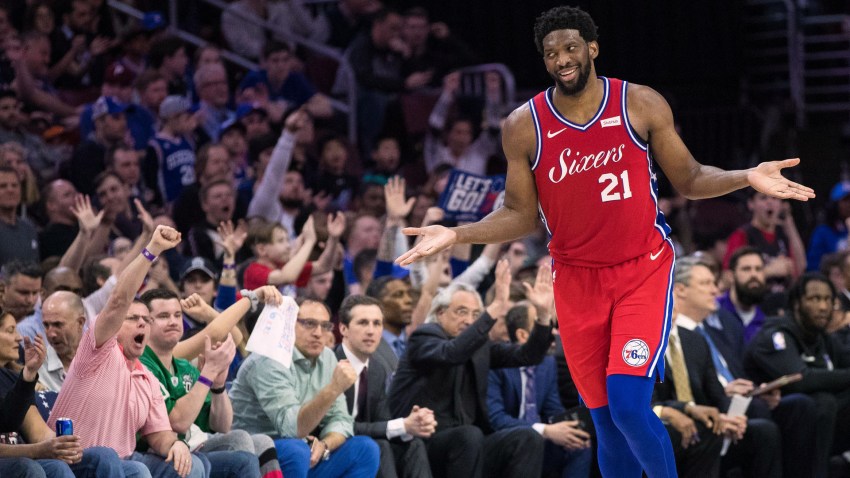 It's time to come to terms with the fact that the 3-1 jokes are never going to stop.
The Warriors entered the NBA playoffs as the odds-on favorite to win their third straight NBA championship, and yet all anyone wants to talk about is the 2016 NBA Finals.
Earlier this week, the Los Angeles Clippers trolled the Warriors for blowing a 31-point lead in Game 2 of their first-round series with special shirts. As you probably have figured out, 31 also doubles as 3-1. How clever.
Well, now we can add Joel Embiid to the list of people who continue to bring up the Warriors' collapse in the 2016 NBA Finals.
After the Philadelphia 76ers beat the Brooklyn Nets 112-108 in Game 4 on Saturday to take a 3-1 series lead, Embiid was asked how important the win was and he, of course, had to take a swing at the Warriors.
Reporter: "... how important was this win?"@JoelEmbiid: "We definitely don't want to be in the situation like the Warriors two years ago ..." pic.twitter.com/arx7OxZdLh— ESPN (@espn) April 20, 2019
Don't tempt fate, Joel.
Considering how top-heavy the Eastern Conference is, this might be Embiid's only opportunity to take a shot at the defending champs because it's probably not going to come on the court in June.
[RELATED: Draymond lost 23 pounds in six weeks to get ready for playoffs]
After the 76ers' second-round flop in last year's playoffs, you'd think Embiid would be more focused on the task at hand instead of cracking jokes after a narrow win over the upstart Nets.
But after you drop 31 points and pull down 16 rebounds, we guess you can make all the jokes you want.
Copyright CSNBY - CSN BAY