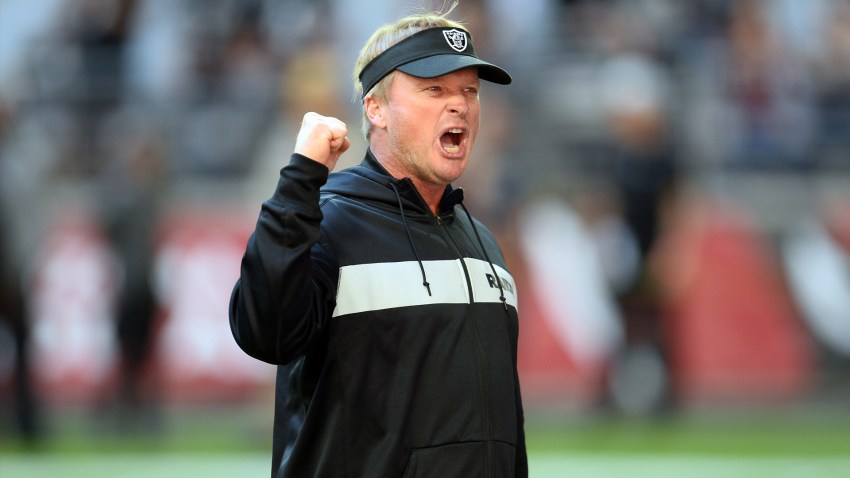 NAPA --The Raiders open training camp Saturday in Napa. The venue also will host Alumni Weekend, where figures of past Raider glory will descend on wine country and get a look at the newest iteration of the Silver and Black.
For head coach Jon Gruden, now entering Year 2 of his second reign with the Raiders, the hope is that he and general manager Mike Mayock have built a team that will harken back to the physical, tough Raider teams of yesteryear.
"We have to form an identity," Gruden said Friday when asked what needed to happen for the Raiders to be successful in 2019. "We're going to be a physical, versatile football team that can adapt to any situation. We want to be a tough football team. We want to be a smart team. We want to take a lot of pride in the details. We have Phil Villapiano and some of our veteran alumni coming in here this weekend. You'll see George Atkinson running around here.
"We'd like to get back to the Oakland Raiders of years past. And hopefully our players can learn what it is to be a Raider, and the commitment that it takes to be an excellent football team. I think it'll be there. We got to get a lot of new relationships formed and that's the goal. That's why we are here."
For new general manager Mike Mayock, the Raiders' identity has needed changing for the better part of 16 years. He and Gruden intend to do just that.
"To oversimplify, the Oakland Raiders had been to one playoff game in 16 years," Mayock said. "That's not a good identity. I don't want to get more specific than that, but I think Jon came here and his intent was to change that. Jon is one of the most talented men that I've met in any industry in my life. We're going to change it. I think he has a vision. I think he and I have talked an awful lot of fricken football over the years. Jointly we have a vision, and I think we're starting to implement it. I'm excited about that."
[RELATED: Gruden laughs off AB's balloon entry, expects 'more drama']
After going 4-12 a season ago, the Raiders made sweeping changes to the roster, remaking it in Gruden's image of a winning football team.
They traded for Antonio Brown -- who will open camp on the non-football injury list --and signed wide receiver Tyrell Williams, offensive tackle Trent Brown and safety Lamarcus Joyner. Gruden and Mayock got a haul in the 2019 NFL Draft, adding defensive end Clelin Ferrell, safety Johnathan Abram, running back Josh Jacobs, cornerback Trayvon Mullen and receiver Hunter Renfrow to create what they hope is the foundation for the next great Raider run.
With camp opening Saturday, Gruden is ready to get to work in what feels like his first real camp back as the man tasked with bringing the Raiders back to NFL prominence.
"Yes, we have a lot of new players at every position," Gruden said. "We are very confident that we have taken some really good steps in building our football team. We need some veterans to come through, we need some young guys to come through, but we do feel like we've gotten faster, we feel like we've gotten bigger. We've got a lot to prove, that's for sure."
Copyright CSNBY - CSN BAY