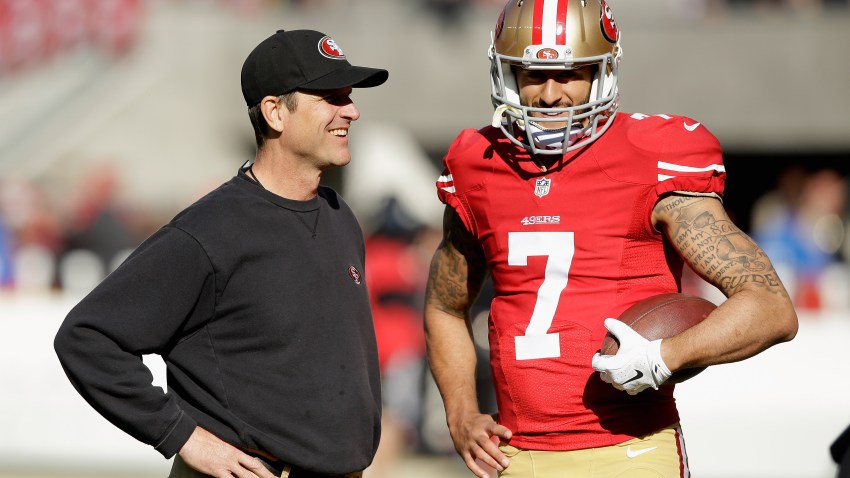 There are many things about Colin Kaepernick's game that critics can take apart.
In the just-concluded 2014 season, the 49ers quarterback seemed to take a step back in his progress. He took way too many sacks, a franchise-record 52. His interceptions were up and his touchdown passes were down. And while the Niners dropped to 8-8 and missed the playoffs for the first time since 2010, Kaepernick's quarterback rating also plummeted to 86.4, his worst since he became a starter.
Yet one thing no one can pick apart is Kaepernick's work ethic.
Since coming into the NFL, the young quarterback has earned the respect of coaches and teammates by not only working hard during the season, but by putting in weeks of extra work in the offseason to make himself better.
Before the 2013 season, for instance, Kaepernick spent seven weeks near Atlanta working with trainers to refine his running technique and physical fitness. While there, he also worked out regularly with NFL wide receivers.
From there, he went straight into 49ers offseason workouts.
As 49ers general manager Trent Baalke told reporters at the time, "There's no harder worker."
Now, Kaepernick has announced he'll spend a big chunk of this offseason working on his quarterbacking fundamentals with former NFL QB Kurt Warner and quarterbacks coach Dennis Gile, reports Matt Barrows of the Sacrameto Bee.
Barrows wrote that Kaepernick will work with both in the Phoenix area at EXOS, a facility where college players preparing for the NFL draft often go to refine their skills before the NFL Combine.
Kaepernick will begin training there next week and continue in the program until the 49ers begin their offseason program in March, according to Barrows.
Warner, a two-time NFL Most Valuable Player, will work with Kaepernick on being more efficient, usng film study, seven-on-seven drills and charting plays. Gile told Barrows that the focus will be on helping Kaepernick become more consistent and efficient.
"If we can teach him that, then I think he becomes one of the most dangerous quarterbacks in the NFL," Gile told the Bee. "Because you can't teach the natural talents that he has."
Kaepernick's offseason work also will have him primed to begin work with the 49ers new head coach, whoever it may be. After playing for Jim Harbaugh since coming into the NFL, Kaepernick now will be working under a new head coach and offensive coordinator in a new system.
It promises to be a very interesting and intense offseason for Kaepernick, who obviously is ready to work to put the 2014 season behind him and get back on an upward arc in his career.