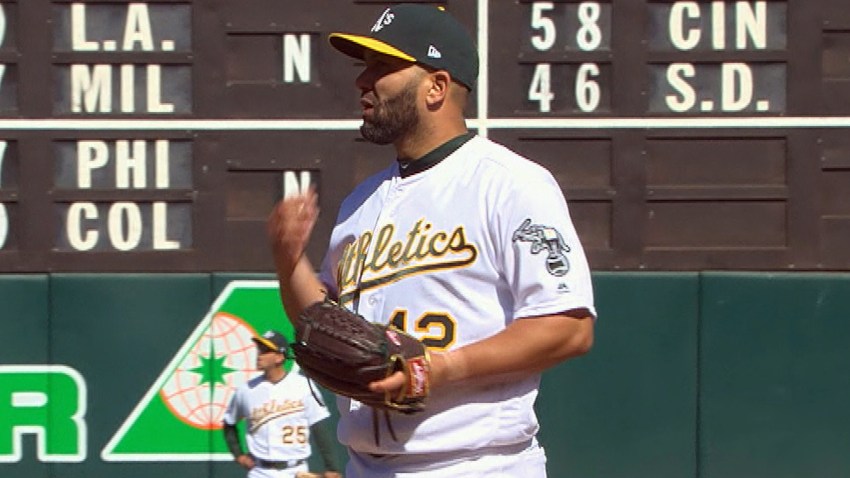 If the A's and Jays are playing, let Kendrys Morales pitch.
With the A's losing big on Saturday, manager Bob Melvin let Morales pitch the top of the ninth inning.
"There's just a lot of responsibility to pitching," Morales told the media in Oakland, through a translator. "In a situation like this, the team needed me to go in and get some outs and save some arms, so three outs is nothing."
The veteran first baseman and designated hitter got the first out on one pitch, but then he ran into a bit of trouble.
After a walk, a single and a hit-by-pitch, Billy McKinney drove in a run with a sacrifice fly. A walk to Luke Maile re-loaded the bases, but Eric Sogard popped out to shortstop to get Morales out of the inning. The A's would score a run in the bottom of the ninth, but ultimately lose 10-1 to Toronto.
According to the in-stadium scoreboard, Morales threw a slider on all 21 pitches he threw.
"No, no, no," Morales said with a laugh. "I didn't throw a single slider. Just a regular fastball."
Morales' appearance on the mound comes almost one year after he pitched for the Blue Jays against the A's. On May 20, 2018, pitched a scoreless inning for Toronto, but he did walk one batter.
"Last year I got a chance to pitch against Oakland and this year against them, so I just tried to do my best with the opportunity," Morales said.
[RELATED: Fans apprehended after running on field]
If you want to go all the way back to pre-MLB Kendrys Morales, he took the mound once during the 2001-02 season when he was playing in the Cuban National Series. He pitched 2 1/3 scoreless innings that day.
So, Morales' spotless career ERA is no more.
Copyright CSNBY - CSN BAY