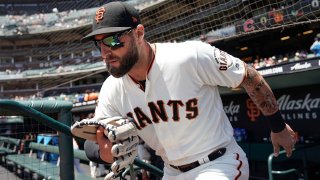 SAN FRANCISCO -- The Giants knew Kevin Pillar was popular in Toronto, but a few of his teammates were surprised by just how much love was shown when Pillar returned with the Giants a few weeks after a trade to the West Coast. Pillar was cheered thunderously throughout the series and received a long standing ovation when the Blue Jays showed a tribute video.
Giants fans soon fell in love with Superman, too, and Pillar's teammates selected him as the Willie Mac Award winner. Pillar's run in San Francisco lasted just one season, with the team deciding to non-tender him on Monday. The next morning, Pillar posted a message to the organization and fans:
One of the points Pillar made there is a fascinating one. He is from a generation of players that did look forward to free agency, but the market has been unkind to veterans the past couple of years.
It was telling that the Giants weren't able to find a trade partner before the 5 p.m. deadline on Monday, and Pillar may have trouble matching the $10 million salary he was due in arbitration.
[RELATED: Would Giants wait all the way until January to sign Cole?]
But, he shouldn't have trouble finding a new home. It's hard to fill a hole in center field, and Pillar still is fully capable of getting plenty of time out there for a contender. The Mets, in particular, look like an early match, and Pillar should find other teams that value his glove, leadership, and ability to mash lefties.
Copyright C