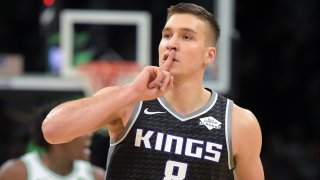 SACRAMENTO -- Are you hurt or are you injured?
That is usually coach speak for, 'get back out there,' although some players don't need that extra motivation.
Coming off a career night against the Suns on Nov. 19, Kings guard Bogdan Bogdanovic felt some tightness in his left hamstring. Injuries of this sort are no joke. If not properly cared for, they can linger and even become chronic.
Sacramento isn't taking the injury lightly. Bogdanovic missed the team's loss to the Brooklyn Nets last weekend and he's currently on a modified minutes restriction.
"Bogi is on six minutes at a time right now, that's the most we can play him is six minute stretches," head coach Luke Walton said following the team's win over the Denver Nuggets on Saturday.
Bogdanovic played 29 minutes in the 100-97 overtime victory, but it took some creativity from Walton and his staff. Walton broke the rules late, inserting Bogdanovic into the line-up at the 8:33 mark of the final frame and letting him play out the final minutes, but there were plenty of timeouts and free throws to break up the time.
Walton even started rookie Justin James in the five minute overtime session to get Bogdanovic his needed rest and then subbed in his veteran guard at the 2:44 mark.
In the four games since sustaining the injury, Bogdanovic has posted 15.3 points, five assists and 1.3 steals over 28.4 minutes per game, although he's struggled with his shot. The 27-year-old is shooting just 34.3 percent from the field and 25 percent from 3-point range over that time, but the Kings are 2-2.
It's not a debilitating injury for Bogdanovic, but it hurts. The good news is, he can't really do further damage.
"I'm just trying to help the guys to win these games," Bogdanovic told NBC Sports California. "This hamstring cannot get worse than it is now, but I struggle with it. It hurts all the time. When I bend, it's there, the pain is there. But it's something I have to deal with, I have to play with consistent pain. But no excuses."
Bogdanovic missed just four games as a rookie and another 10 to start his sophomore year after undergoing a procedure on his left knee. He prefers to fight through the pain and be there for his teammates.
"You play with it and eventually, it will heal," Bogdanovic said.
[RELATED: Serbian connection makes Bogi feel at home]
While Bogdanovic described his injury, veteran point guard Cory Joseph sat nearby. Joseph even chimed in, making it known that Serbians, like Bogdanovic, don't sit out unless it's a broken bone.
Bogdanovic is hurting. His numbers show it and on occasion, you can even see the pain on his face. But with De'Aaron Fox, Marvin Bagley and Trevor Ariza all missing time, the Kings are short-handed, and playing through this issue is all that Bogdanovic knows how to do.
Copyright C