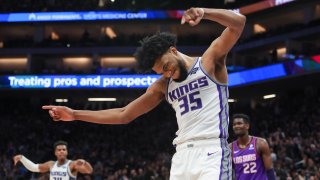 The Sacramento Kings finally got some good news on the injury front. According to an official press release from the team, Marvin Bagley has been cleared to resume full-contact basketball activities on Thursday after missing the last 19 games with a broken right thumb.
Bagley stayed back in Sacramento to have his hand re-evaluated, but according to a league source, the 20-year-old power forward is on his way to San Antonio to rejoin the team. While he is medically cleared, that doesn't mean he will suit up when the Kings face the Spurs on Friday evening.
The No. 2 overall pick in the 2018 NBA Draft has continued to work on his game during his absence, but he has yet to go through a full-contact practice with the team and the early word is that he is doubtful to play against San Antonio.
Bagley posted solid numbers in his rookie season, finishing the year averaging 14.9 points, 7.6 rebounds and a block in 25.3 minutes per game. He missed a combined 20 games last season while dealing with two separate knee injuries.
With Bagley out, Nemanja Bjelica has stepped into the starting lineup and played well for Sacramento. The Serbian forward is averaging 10.9 points, 6.8 rebounds and 2.6 assists in 26.3 minutes per game alongside starting center Richaun Holmes.
Head coach Luke Walton will have to make some adjustments to fit another big back into the rotation, but Bagley is low post threat and one of the better rebounders on the team. He also has fresh legs after sitting out the last six-plus weeks.
There is no early word on Bogdan Bogdanovic, who missed Sacramento's loss to the Portland Trail Blazers on Wednesday evening due to a right knee contusion, although the Kings' super-sub was confident he would play and told NBC Sports California that his left hamstring is feeling much better.
Starting point guard De'Aaron Fox stayed back in Sacramento to rehab his injured left. The 21-year-old injured himself at the end of practice on Nov. 11. He has missed the last 11 games for the Kings and will be re-evaluated in two-to-three weeks.
Copyright C