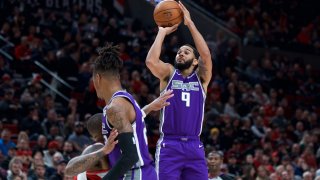 PORTLAND -- No one is making excuses. The Sacramento Kings expect to win basketball games. When they don't there is a lot of frustration to go around.
After a difficult 127-116 loss to the Portland Trail Blazers where the Kings were forced to play without Bogdan Bogdanovic, the team is limping through the early schedule and looking for some kind of boost.
"It's difficult, we're banged up," Cory Joseph told NBC Sports California as he sat in his locker with an ice wrap on his back. "We are all banged up, but it's the NBA, it happens. It's a next man up mentality, we just got to figure out how to put a couple of wins together."
Coach Luke Walton's group has done a nice job of playing the next man up game, but losing Bogdanovic might be a tipping point for this team.
It's not just that the Kings have lost three players. They've lost their starting point guard in De'Aaron Fox, their best interior scorer in Marvin Bagley and now their sixth man who has helped hold everything together.
"You don't want any of your guys to get hurt, but a lot of what we built, we built around having certain guys, and they haven't been with us," Walton said. "Again, that's why I go back to giving our guys credit, they've adjusted, adapted, continued to work. The NBA is tough, and the West is a monster, and even with that our guys are out there giving everything they have most nights."
It's become the theme of the season. Bagley broke his thumb in the first game of the season and has yet to make it back on the court. He wasn't with the team in Portland as he prepared for another re-evaluation. It's possible that he joins the team on the current trip, but nothing is certain.
Fox severely sprained his left ankle in practice a little over three weeks ago. He stayed back in Sacramento to continue his rehab and is still 2-3 weeks away from suiting up.
Nemanja Bjelica and Cory Joseph have stepped up to fill in, but neither player fits the mold of the one they are replacing. Bjelica is shooter and a high-basketball IQ player, but he doesn't have Bagley's post game or rebound ability.
Fox is an offensive weapon and the fastest player in the league. Replacing him with the defensive-minded Joseph is a difficult transition and that's not a knock on Joseph.
"The biggest thing is, the people who are out there, we've got to get it done," Harrison Barnes told NBC Sports California. "Tonight wasn't a great performance on either side of the ball for myself and I know I can be better, but for everybody. We just have to find a way and we've done that this season and we'll continue to do that. Hopefully at some point, we'll all be healthy and on the court at the same time."
Outside of Fox, Bogdanovic is the team's best playmaker. Walton used Yogi Ferrell and Trevor Ariza to eat the minutes, but the second unit combined for five assists, which is really close to what Bogdanovic averages for the season on his own.
Bogdanovic is confident he'll be ready to play on Friday when the Kings fly to San Antonio to take on the Spurs. He's struggled with left hamstring tightness for the last week, but he told NBC Sports California during pregame that he was feeling much better. He had ice on his right knee, which has a contusion, but he's a gamer that rarely sits out.
[RELATED: Latest NBA Power Rankings]
At 8-12, the Kings are still in the thick of things in the Western Conference. If they can get healthy, there will be an adjustment period, but the added pieces are exactly what the team needs.
The key is to continue to play hard, regardless of who steps on the floor, with the hopes of keeping within striking distance. It's not the script the Kings hoped for this season, but this is the reality of their situation.
Copyright C