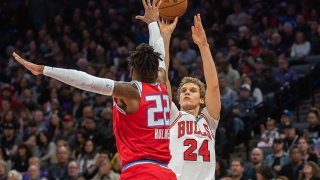 SACRAMENTO -- The Sacramento Kings have shown the ability to play with any of anyone early in the 2019-20 season. On Monday evening at Golden 1 Center, they also showed that they can lose to anyone as well.
After a fast start in the first quarter, the Kings were run over by a young Bulls team, falling by a final of 113-106.
Sacramento (8-11) turned the ball over, were lethargic on the defensive end and their bench was thoroughly dominated. They still had chances to climb back into the game late.
Zac LaVine led the way with 28 points for Chicago (7-14). Lauri Markkanen chipped in 20 points and seven rebounds and Coby White added 11 points off the bench.
Here are three takeaways as the Kings stumbled on their home court.
A tale of two centers
Richaun Holmes continues to shine for Sacramento almost every time he steps on the floor. It was no different against the Bulls.
Holmes scored 20 points on 9-for-12 shooting, grabbed nine rebounds and blocked a shot.
When coach Luke Walton went to his bench, Dewayne Dedmon didn't fare as well. The veteran scored two points, grabbed seven rebounds and turned the ball over three times. Dedmon also ran a negative-11 for the game.
Slow start, big finish
Buddy Hield struggled with his shot early, but showed up to help his team stay in the ball game late.
The Kings' starting shooting guard has been all over the board with his 3-pointer for the last few weeks. He missed his first four triples in the first half, but bounced back to shoot 9-of-21 from the field on his way to 26 points.
Hield added five rebounds, four assists and a steal, but it wasn't enough to come away with the win.
Yo-gi...Fer-rell
Needing a spark to wake up the crowd, coach Luke Walton turned to reserve point guard Yogi Ferrell and he brought the energy.
Ferrell turned up the pace for Sacramento and made a huge impact in the game. In 20 minutes off the bench, Ferrell finished with nine points, four assists and two steals.
Walton stuck with Ferrell all the way down the stretch and he performed well.
Copyright C