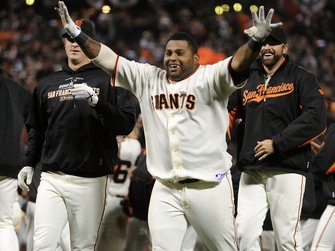 Looks like the Kung Fu Panda has been laying off the Kung Pao.
San Francisco Giants infielder Pablo Sandoval, a 245-pounder who'd been told to shape up or ship out after a 2010 slump and a series of scandalous ice cream photos, is reportedy keeping his end of the bargain to lose weight.
Giants general manager Brian Sabean had threatened to have Sandoval, a 2009 NL MVP candidate, sent down to the minor leagues if he didn't slim down this off-season.
Now comes word from the San Francisco Chronicle's John Shea that the threat may have paid off.
"Brian Sabean tells Chron that Panda already lost 15 pounds," Shea said via Twitter.

Sandoval is spending the off-season at a workout facility in Arizona.
Joe Kukura is a freelance writer who wonders if all the people wearing Panda hats at Giants playoff games even realized that Sandoval appeared in only six playoff games.

Copyright FREEL - NBC Local Media