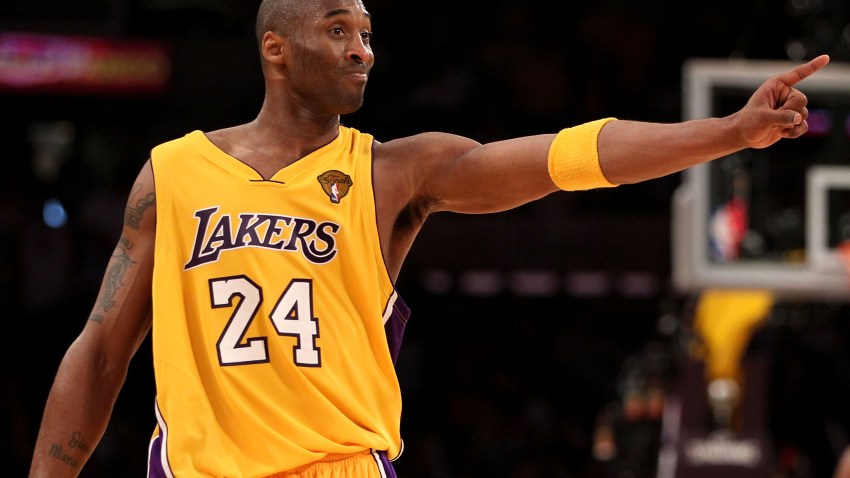 Lakers Celtics. One game. For the Larry O'Brien trophy. For bragging rights. For another banner. For everything.

Isn't this what being a Lakers fan is all about?

Lakers fans should feel pretty confident about that one game for it all showdown on Thursday after the Lakers dominated the Celtics on Tuesday, winning 89-67. The Lakers led by 10 after the first quarter and never looked back.

After apparently misplacing it after Game 3 in Boston, the Lakers found their defense and brought it to Staples Center on Tuesday night. The Lakers long arms were taking up passing lanes and blocking shots. Boston was a step slow, uncomfortable with the Lakers pressure and shot just 33 percent for the game.

All those misses meant it was the Lakers turn to get out and run. Jordan Farmar had a spectacular dunk over Kevin Garnett. Shannon Brown had a spectacular dunk because that's what Shannon Brown does.

Of course the Lakers stars showed up — Kobe Bryant had 26 points, Pau Gasol rebounded from an off outing with 17 points and 13 rebounds. But the real difference was the role players. Like Farmar diving for a loose ball at center court and starting a fast break with it. Like Ron Artest hitting 3 of 6 three-pointers on his way to 15 points. Sasha Vujacic scoring 9 points. The reserves stretching the lead to over 20 points while the starters rested.

So now it is a Game 7, and the Lakers may have another advantage. At the 5:30 mark of the first quarter, Boston center Kendrick Perkins landed awkwardly and sprained his knee. He did not return to the game, and while he said afterwards he would give it a go people around the team seemed to think he would be out.

Like Bynum is to the Lakers, Perkins is the heart of how the Celtics defend the key.

"(Perkins is) a guy that cleans the paint up, let's say, and not having him there made the Lakers awfully long," Rivers said. "It also, I thought, allowed them to rest Bynum even more in the game."

Perkins absence fueled the Lakers ability to get inside and do what they wanted. It allowed the Lakers to rest Andrew Bynum, whose own knee swelled up again at half and he could barely run from the third quarter on. He will receive more treatment and said he will go as much as he can on Thursday night.

Boston is not going to come out in Game 7 looking like an old team still tired from a cross-country flight. Their backs will be against the wall now, too. They will play with better energy, more passion. They will defend better, as they started to do in the second half of Game 6 (but after it was too late to matter).

But this is now a confident Lakers team. A Lakers team that got back to defending and got back to working their offense. A Lakers team that played like champions again.

"The opportunity (to play in a Game 7) is not something that makes me happy," Bryant said. "It's winning and taking advantage of the opportunity that makes me happy."

That's an attitude that has to have Lakers fans feeling confident.
Kurt Helin lives in Long Beach and is the Blogger-in-Chief of NBC's NBA blog Pro Basketball Talk (which you can also follow in twitter).
Follow NBCLA on:


Copyright FREEL - NBC Local Media