Lindsay Gottlieb will be stylin' in the Big Easy for the Final Four. From the second she returned to campus as California's head coach two Aprils ago, she spoke of being in this position.
And as much as the outgoing Gottlieb encourages her players to enjoy their time in the spotlight on women's basketball's big stage, assistant Kai Felton had to talk her into having a little fun with her gameday attire for Cal's debut in the showcase event. It's not every day you get to coach in the Final Four.
For Cal, this is a monumental step out from the shadows of Bay Area rival Stanford. Gottlieb is downright giddy that this is happening to a team of unselfish young women she loves so dearly.
"I'm going to have an outfit on that I like,'' she said. She headed to Nordstrom for a fitted navy blue dress and a necklace, then the saleswoman talked her into some strappy, high-heeled designer Manolo Blahnik sandals. It's the biggest splurge she has ever made on her typically casual and low-key wardrobe (Gottlieb typically wears pantsuits or skirts for games). "It's like my Sex-in-the-City moment,'' Gottlieb said with a grin.
"I've worn a Vera Wang dress as a bridesmaid, and this is still more. It is a once-in-a-lifetime. Well, hopefully not once-in-a-lifetime. ... I am very conscious of the fact there are so many unbelievable coaches who never get to have this experience.'' The 35-year-old Gottlieb has led her close-knit, hard-nosed Golden Bears to the Final Four at last the first in program history, just two years after she returned to Berkeley following a successful three-year stint at Santa Barbara and vowed to build Cal into an elite program.
It's been a season filled with remarkable firsts for the Bears (32-3), from sharing the Pac-12 regular-season title to reaching the 30-win mark. Next up for the second-seeded Bears is a matchup with No. 5 seed Louisville the team that took down Brittney Griner and defending champion Baylor _ in Sunday's national semifinals. Cal figures it has as good a chance as anyone to cut down the nets in New Orleans.
"Yes! I think, why not? I think Baylor was one of the huge monsters,'' senior leading scorer Layshia Clarendon said. "Why not us? Why not the Cal Bears? We're not backing down from anyone now.'' These days, there's no question Berkeley is a basketball town.
The Cal men's team won its first game of the NCAA tournament, and now the women are making history in a year that Stanford is out of the picture.
"They're a close-knit group, and it's great. She's got talented players, and she's a perfect fit because she cares so much about them. And she's young. I think they can win it all,'' Cal men's coach Mike Montgomery said. Cal left Thursday to a send-off from its home court in Haas Pavilion, complete with pom-pom waving fans in the stands, the band playing and even a police escort after the Bears loaded the buses and departed for the Oakland airport. "Me, nervous? Not at all,'' Gottlieb said.
"There are different emotions with this whole thing. There's not a team in the country I'd rather be bringing to the biggest stage. I've said that there's no doubt in my mind this team was capable of this, and yet it's still better than our wildest dreams experiencing all of it.'' Gottlieb has embraced the fan-friendly, community approach, determined to make her impact in a humongous, pro-sports heavy market where such a notion would seem almost impossible to many.
But not to Gottlieb, who turns to Facebook and Twitter to promote her program and praise her players' accolades and team accomplishments.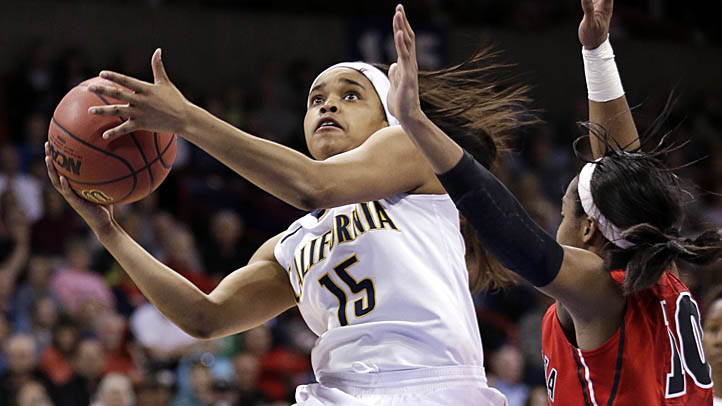 "From Day 1, her conviction grabbed you,'' junior guard Mikayla Lyles said. Gottlieb wants these women to be themselves. When Clarendon began sporting a mohawk, Gottlieb "said it was cool and she liked it,'' according to Clarendon.
"They don't give enough credit to themselves. There are players in this locker room who are some of the best in the country,'' Gottlieb said. "I think what I did is I asked them to say, `Make the team and California on the front of your chest the most important thing,' and they've done that. The other thing I've given them is I've played to their strengths. And I've given them a belief that we're capable of this.
"I have never been around a group that genuinely believes we're going to get it done, believes in the person next to them.'' Gottlieb had already helped build something special in Berkeley as a top assistant under previous coach Joanne Boyle before leaving for her stint at UCSB, where she was 2009 Big West Conference coach of the year and led the Gauchos to a pair of postseason berths and league championships.
The day she was introduced, Gottlieb spoke of not just being an NCAA tournament team but of reaching the Final Four and doing so on a regular basis. She has found her unique way of motivating that resonates with the young women who relate to such a positive, team-first style. Gottlieb plans to allow her players to enjoy the entire experience of the Final Four, on the practice court and off.
"We're definitely going to stop at Cafe Du Monde.I feel like right now that's primary right up with practice,'' she said of the iconic New Orleans spot for beignets. "We're going to go to New Orleans and they're going to soak up every piece of it that they've earned, and that's not going to take away from our ability to focus. I think that's actually a bonus for us, because that's how we do it all the time anyway.''
Gottlieb was the natural choice of athletic director Sandy Barbour for this job. Yet nobody would have guessed the Golden Bears would be in this spot so soon, despite her track record and fast-track path to the top tier of women's coaching. Gottlieb coached at Cal from 2005-08 under Boyle, who made a 24-year-old Gottlieb her No. 1 assistant at Richmond.
"You just know when an assistant is going to be great, and she was great,'' Boyle said Thursday. "She knew what I needed and she made me better. She knew how to be a right-hand person to a T. I always said she was going to be a great head coach, no doubt in my mind. She didn't have a major weakness.''
Cal made four consecutive NCAA tournaments from 2006-09 and posted four straight 20-win seasons for the first time in school history. But Gottlieb took over after the Bears lost 81-65 at Colorado in the second round of the Women's National Invitation Tournament to finish with an 18-16 record.
It was hardly where they planned to be. In Gottlieb's first year, Cal finished 25-10 after a 73-62 loss to Notre Dame in the second round of the NCAA tournament. Even Clarendon didn't see this Final Four trip coming so soon.
"Not really, not to say anything against Lindsay,'' Clarendon said. "We were just struggling so bad, we just wanted something to believe in. I think that's what's awesome about Lindsay. She came in and she's just like: `Look, follow me, I'll lead the way. Just come to practice, just work hard, run fast, bring energy and be yourselves and I'll worry about the rest, and I'll lead you.' That's what she's done, and look where we are now.''
Copyright AP - Associated Press