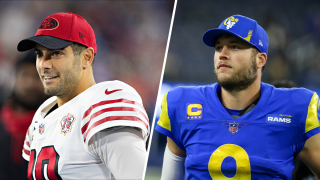 The San Francisco 49ers are taking on the Los Angeles Rams at the NFC championship game at SoFi Stadium in Inglewood.
The winner of the game will face the Cincinnati Bengals at Super Bowl 56.
The Niners knocked the Rams out of playoff contention with a comeback win in 2019 and then swept the season series last season despite going 6-10. They dominated the first game this season before rallying back from 17 points down to win the season finale in overtime to get into the playoffs.
There also has been memorable words, with Jimmy Garoppolo talking about taking the Rams' soul away with a physical game-opening drive in November and then Niners tight end George Kittle calling the finale a "body-bag game."
The rivalry is just the latest distillation of the ongoing competition between the Bay Area and Los Angeles that encompasses food, culture, music, weather, and of course, sports.
Whether it's the Giants vs. the Dodgers in baseball, the Warriors and Lakers in the NBA or this one on the gridiron, there's always a little more on the line when teams from these two regions meet.
The fans get into as well, with the 49ers faithful taking pride in taking over SoFi Stadium back in Week 18 so much that the Rams needed to use a silent count at times on offense.
That led to pleas from some of the wives of Rams players to their own fans not to sell tickets to Bay Area fans.
That doesn't seem to be working with ticket reseller StubHub projecting a heavy Northern California contingent at the game.
"Hopefully we'll have a sea of red down at SoFi and turn it into Levi's South," Niners kicker Robbie Gould said.
The McVay-Shanahan chapter is just the latest in a rivalry that dates to 1950 when these teams were the only California squads in the NFL.
The game Sunday will the 146th ever between the teams and just the second in the postseason. The Niners beat the Rams 30-3 in the 1989 NFC title game on the way to back-to-back Super Bowl wins.
See the tweets below of the live updates of the game:

Copyright AP - Associated Press