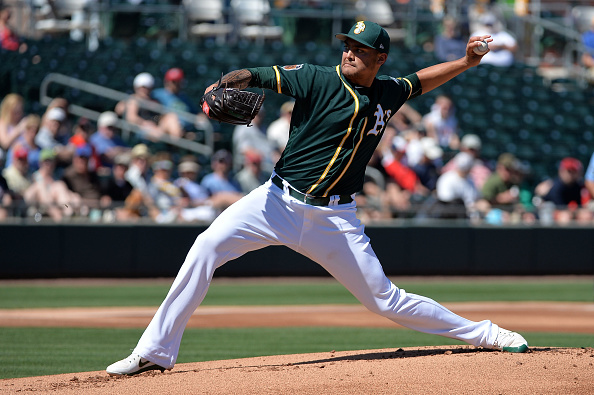 Oakland youngster Sean Manaea pitched four perfect innings during a scoreless duel with Johnny Cueto before the San Francisco Giants beat the Athletics 3-0 in the preseason Bay Bridge Series opener Thursday night.
Brandon Crawford's seventh-inning single put San Francisco ahead.
Manaea struck out two, throwing 31 of 43 pitches for strikes, and was thrilled with his spring finale after striving for consistency from Day One when pitchers and catchers arrived in Arizona.
Bring on Mike Trout and the big hitters next week. The 25-year-old Manaea can't wait for the next challenge in beginning his first full major league season.
"Today was a good indicator of where I am mentally and physically," said Manaea, the team's No. 2 starter. "I'm really happy with how tonight went. It's a really nice outing to end spring training with."
Cueto, an 18-game winner in his first season with San Francisco a year ago, allowed six hits and struck out two in five scoreless innings.
He was relaxed and in rhythm while throwing all his pitches, sporting that big grin back in his home ballpark, and even picked off last season's AL stolen base leader, Rajai Davis.
"He runs fast. It feels good when you get him out," Cueto said. "It didn't feel like a spring training game. It felt like a regular-season game."
John Axford relieved Manaea in the fifth.
The Giants got four straight hits against Liam Hendriks in the seventh, when Eduardo Nunez singled in a run and Joe Panik hit a sacrifice fly. New closer Mark Melancon finished with a 1-2-3 ninth.
San Francisco won for just the seventh time in its last 26 spring training games against the A's, who have won nine straight meetings in Arizona - two this year.
Giants ace Madison Bumgarner has moved lockers to the opposite corner of the clubhouse. He says he made the switch to check out new scenery.
FAMILIAR FACE: Giants first baseman Brandon Belt figured he would catch up with Santiago Casilla in the clubhouse, but then it dawned on him: The right-handed reliever is now with the A's after seven seasons with San Francisco.
Belt asked him to throw a fastball.
Casilla responded by asking Belt to make sure if he hit it, not to clear the fence or reach McCovey Cove.
"Just a base hit," Casilla cracked.
Casilla helped the Giants win three World Series titles _ in 2010, `12 and `14. His glove is still black with orange stitching, but that will be fixed soon.
Casilla was shown on the big screen in the middle of the second with his name and "Forever Giant." He smiled and tipped his green cap.
"It's a little hard," he said. "I've known these guys a lot of years and we've played together and won three World Series."
ROLLINS THE ODD MAN OUT: Giants general manager Bobby Evans informed INF Jimmy Rollins he won't make the team out of spring training and is waiting to hear back from him or his representatives about what options might be next. The 2007 NL MVP wasn't at the ballpark. The 38-year-old Rollins, who hoped to play at home in his native Bay Area for the first time after 17 major league seasons, was batting .119 (5 for 42) with eight strikeouts in 17 Cactus League games.