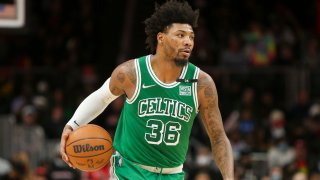 WATCH: Smart arrives to C's-Nets Game 2 in DPOY robe originally appeared on NBC Sports Boston
Marcus Smart showed up to TD Garden in style ahead of Wednesday night's Boston Celtics-Brooklyn Nets Game 2.
The Celtics point guard arrived wearing a "DPOY" robe after winning the 2021-22 NBA Defensive Player of the Year award. Check out the look below:
Smart is riding high after becoming the first guard to win Defensive Player of the Year since Gary Payton in 1995-96. The longest-tenured Celtic also assisted on Jayson Tatum's game-winning buzzer-beater in Sunday's Game 1.
It's a good thing Smart is dressed for a heavyweight bout, because that's exactly what the C's can expect vs. Brooklyn in Game 2. Tip-off is set for 7 p.m. right here on NBC Sports Boston. Coverage begins at 6 p.m. with Celtics Pregame Live.
Note: Games 2-6 of the Brooklyn Nets-Boston Celtics series will be aired on NBC Sports Boston and can also be streamed on NBCSportsBoston.com or with the MyTeams App, which you can download below.
Copyright RSN