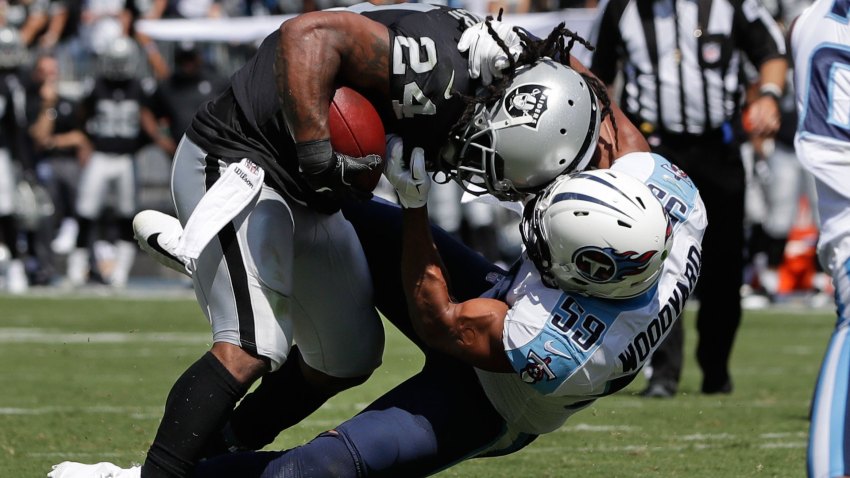 OAKLAND – Leaving Tennessee Titans defensive tackle Jurrell Casey unblocked normally spells trouble. The two-time Pro Bowler, after all is 6-foot-1, 305 pounds backfield wrecking ball. A lack of communication up front left Casey free and Raiders running back Marshawn Lynch exposed approaching the line of scrimmage.
Lynch didn't dodge. He went full battering ram in that instant, slamming into someone 90 pounds heavier. Size didn't matter here. Lynch trucked Casey on that play and stay upright for a 6-yard gain.
The Raiders sideline went crazy.
Just imagine if that play happened at Oakland Coliseum. Roar might've registered on the Richter scale.
That could happen Sunday against the New York Jets. That's Marshawn's homecoming game.
Beast Mode is a national brand, but Oakland is its capital. Lynch is The Town's most popular resident, a proud native who has given so much to his community. Tales of his generosity are legend in these parts, though never, ever told by him.
They get out nonetheless, drawing a complete picture of someone who cares about far more about community than football.
Lynch came out of retirement for Oakland. He made that clear in one of two meeting with the media since returning to football. He did so after the Raiders were approved to bolt for Las Vegas and leave Lynch's hometown for a second time.
"A lot of the kids probably won't have an opportunity to see most of their idols growing up and being in their hometown (after the Raiders leave)," Lynch said on June 6 "With me being from here and continuing to be here, it gives them an opportunity to see somebody who actually did it from where they're from and for the team they probably idolize."
It will be a big moment for many, one that has captured local attention to a point that you haven't seen headlines about leaving for Las Vegas. This could mark the beginning of the end for Oakland football. It won't. Not on Marshawn's day. Maybe not while Marshawn's in silver and black.
That especially true after last week's performance, which was vintage Beast Mode. This is Marshawn's game, in his house.
"Super excited to be at home and knowing that Marshawn is a home boy," said head coach and Hayward native Jack Del Rio. "This is his home, like me, grew up here in the East Bay. I know he's going to have special feelings being out there and it's going to be great. It's always great when we come in front of our people here at home."
The crowd will be emotional. Lynch might not be. Left tackle Donald Penn, one of Lynch's best friends on the team, says Beast Mode knows how to compartmentalize.
"I know he'll be happy, but he'll be cool about it," Penn said. "But, you know what? Marshawn is a professional on game day. He comes in there focused. We always joke around, but on game day he's a different person. He's a businessman. I know he's going to be excited. I hope we get him in the end zone this weekend in front of his home team."
Copyright CSNBY - CSN BAY