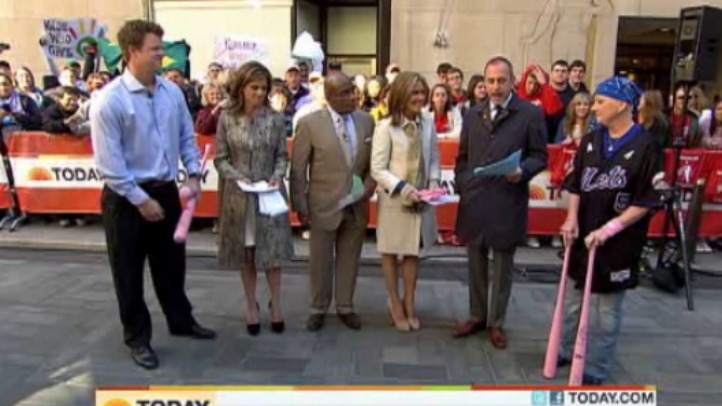 Mother's Day is special for everyone. But it's particularly celebrated within the circle of Major League Baseball.
Or, to put it another way: MLB is teaming with Susan G. Komen (komen.org) for the seventh-straight year with their "Going to Bat Against Breast Cancer" promotion. As you probably know, players all around the bigs will use pink bats, wear pink shoes, etc., etc., in order to help promote this cause.
There will also be an "Honorary Bat Girl" for each team, Giants pitcher Matt Cain joined the Mets' bat girl for an appearance on the "Today Show" in order to help spread public awareness about Sunday's cause.
Visit msnbc.com for breaking news, world news, and news about the economy
Smooth looking dude, that Cain, huh? And very cool of him to get in on the promotion of such a fantastic day in the MLB season.
I might actually argue it's my favorite day of the year -- maybe aside from Opening Day -- because there's so much good will/motherly love flowing through the game, and you almost always see someone do something special, whether it be a crazy walkoff homer (Bill Hall, 2006, with his mom in the stands!), or someone just getting silly and cranking a pair of taters with a pink bat (Torii Hunter, 2007).
Plus, it's a good cause, and that's hard to beat.