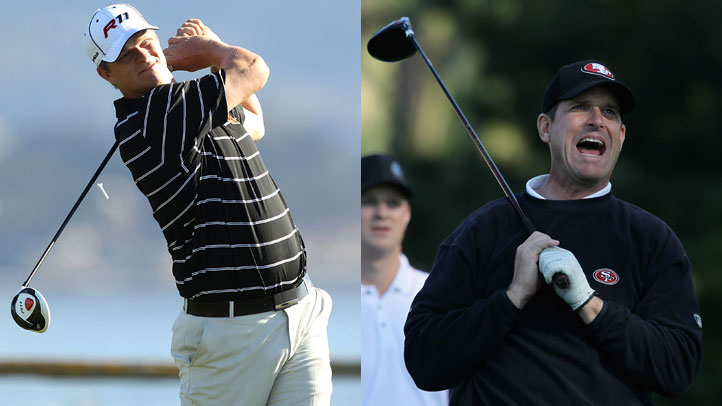 The Pebble Beach Pro-Am kicks off today (er, tees off as it were) and there's going to be a pretty San Fran-riffic pairing out on the course, as Giants pitcher Matt Cain and 49ers coach Jim Harbaugh are paired up together.
The Giants and 49ers have long supported one another; we saw Alex Smith driving Cain around during the Giants parade, and there was the whole "Smith gets fined by the NFL for rocking a Giants hat" thing.
But as the always excellent David Fucillo notes over at Niners Nation, it was Smith and Harbaugh working together at Pebble in 2011. That would probably, um, be just a touch more awkward this year, considering Smith's likely on his way out in San Francisco.
Instead, Harbaugh has to hang out with the San Francisco star who actually won a title.
That being said, he'll probably be OK with it. Harbaugh came quite close two years in a row and maybe Cain can impart some wisdom on closing out a title run, as he's got two titles in the last three years.
The San Francisco stars will be paired with pros Jason Day and Matt Bettencourt. They'll tee off at 8:22 p.m. PT on Thursday, 10:01 a.m. on Friday and 9:06 a.m. on Sunday.
The most interesting thing to me, though, will be what Harbaugh wears. Could he possibly manage to wear a black 49ers pullover four days in a row?
Because as far as I can tell, he looks exactly the same -- in terms of dress and emotion -- on the course as he does on the football field: