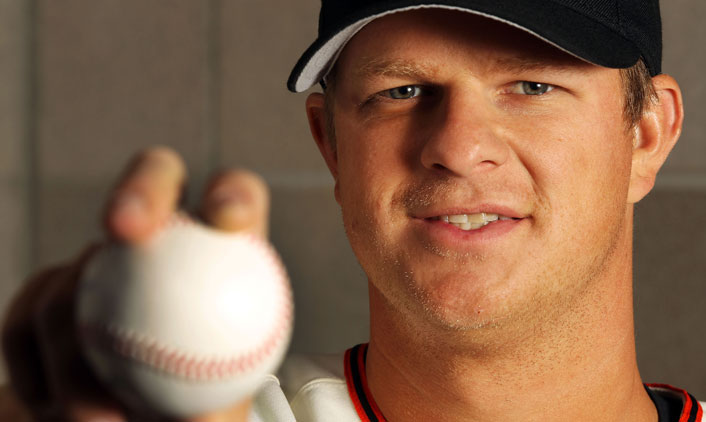 On Wednesday we broke down the nightmare that is Matt Cain getting excited about the prospect of free agency. But there's a much, much, much worse hypothetical situation hanging out there: Cain becoming a member of the Dodgers.
No, really. This started getting traction as a result of Magic Johnson and Co. coughing up $2.1 billion in their purchase of the Dodgers. Though the Dodgers might stink this season, Magic's already promised to "knock on doors" and "be heavily involved" with the recruitment of free agents next season.
And one of those free agents could very well be Cain. Allow Hank Schulman of the San Francisco Chronicle to drop the nightmare quote-bomb on you.
"Not only did Matt Cain just make more money, but every player did," one prominent agent told Schulman. "It really shows how healthy and vibrant the industry is. Plus, every agent knows the Dodgers are about to spend a lot of money."
See, the Dodgers aren't going to spend money before the 2012 season. There's no one to spend it on. But they just invested $2.1 billion in the team, and in order to make that ridiculous sum of money back, the team needs to start winning and generating revenue. And that will involve making it rain on the free-agency class next season.
"I think that the class of free-agent players for the 2013 season just made more money," another agent told Schulman. "The Dodgers are obviously going to have to put a first-class product on the field and be ultra-competitive for elite free-agent talent. They cannot gut the team, be complacent or settle on mediocrity."
The elite free-agent talent next year is, most specifically, Cain and Cole Hamels. Both are stud pitchers and lots of teams would love to have them.
Cain probably works best for the Dodgers, though: they have an upgraded version of Hamels already in Clayton Kershaw and nothing would be finer for L.A. than hijacking one of their chief rivals' best players.
It's not something that's a lock by any means. But it's all the more reason for Giants fans to be concerned about Cain's future in San Francisco and hope that management gets a deal done before the 2012 season begins.