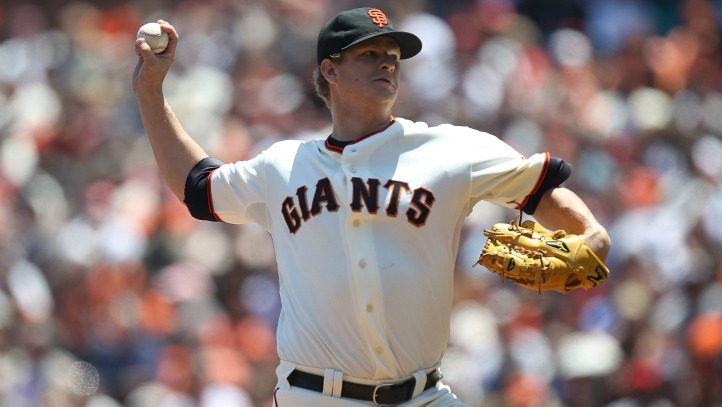 Wrigley Field's been pretty good to the Giants, aside from Wednesday night's walk-off by the Cubs.
And that trend continued when Matt Cain took the bump on Thursday, and picked up his 1,000 career strikeout against catcher Koyie Hill during the bottom of the fifth inning.
He started Hill out 2-0, nibbling on the outside -- and up -- of the zone, before getting him looking with a strike down the pipe on his 78th pitch of the night.
Matty then followed with some high cheddar that Hill almost fouled off to get to 2-2, and proceeded to plow him down looking on the next pitch, a fastball at the knees that Hill knew had him the entire way.
Cain joined some pretty elite company: Juan Marichal (2,281), Gaylord Perry (1,606), Jason Schmidt (1,065) and Tim Lincecum (1,029) are the others on the list of pitchers in Giants who have reached 1,000 strikeouts.
That too -- obviously -- keeps him squarely at fifth on the all-time Giants' strikeout list. And establishes pretty well that Cain's one of the more underrated stars the Giants have ever had. (You can blame Lincecum for that I guess?)
But that doesn't mean the team and the fans can't reap the benefits of Cain's success.
For instance, anyone that wants to see the Giants play the Padres (July 5-7 series at AT&T) can do so by purchasing tickets for just $10, by hitting up the team's site and using the code "CAIN" when doing so.
Just in case you needed another reason to love Cain's work on the mound over the course of his Giants career.