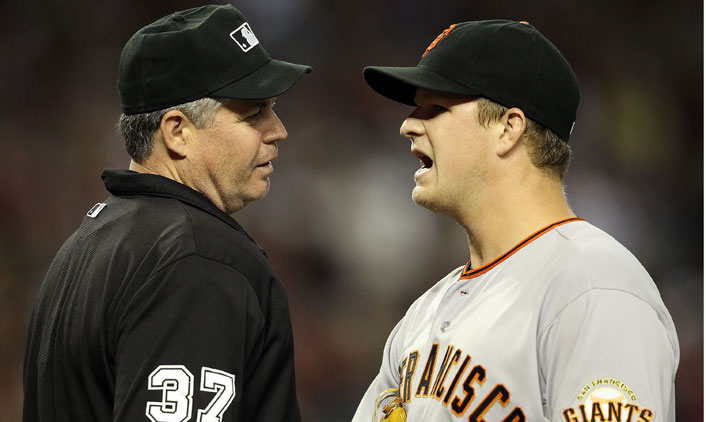 The Yankees recently got bounced from the playoffs in their first-round match-up against the Giants, so the natural reaction for most fans is to sit calmly and wonder what happened.
Except the opposite -- it's time for another headline-grabbing off-season in which the Yankees front office makes it rain on prospective free agents and we discuss insane trade scenarios that, in this case, involve one of the Giants best players.
John Harper of the New York Daily News discusses the possibility of the Giants trading Matt Cain for Yankees catcher Jesus Montero.
"One major league scout yesterday suggested the Yankees might be able to convince the offensively challenged Giants to trade Matt Cain for Jesus Montero," Harper writes.
Harper continues by listing a group of pitchers -- Cain, Gio Gonzalez Trevor Cahill, Mat Latos and James Shields -- that have been bandied about as possibilities in a Montero swap.
Thankfully, he calls Cain "the most intriguing" because, um, duh. Cain finished 12th out of all pitchers in the bigs in terms of WAR (how many wins he's worth over a replacement-level player), and his value is exacerbated for a Yankees team that would kill for an innings-eating ace that could step in and start behind Sabathia in a playoff series.
Shields, by the by, was fantastic in 2010, but he's also three years older. The rest of the guys just aren't in the same class as Cain, but his value may be submerged by the fact that he doesn't pile up wins.
This isn't Cain's fault. It's the Giants offense.
Also, this scout has a hypothetical scenario in which the Giants sign Jose Reyes, trade Cain for Montero, play Montero at first base, and move Brandon Belt to the outfield.
This isn't logical -- Montero's value is inherently tied to playing a position with less offensive talent in the overall pool; by moving him to first base, he's worth less than he is behind the plate. And the Giants already have Aubrey Huff on the payroll and Belt as the up-and-comer for first.
And, of course, this ignores everything that Brian Sabean has said about focusing on pitching this off-season: it's a priority.
Even if the offense stinks and doesn't provide runs for Cain.
"If he pitched for the Yankees," one scout told Harper. "The way they score runs, he'd win 20 easy."
Ah, yes. But therein lies the rub: the Yankees had exactly zero more 20-game winners than the Giants did in 2011. (Which is to say, zero.)
It's not because their hitting stinks. It's because their pitching does.