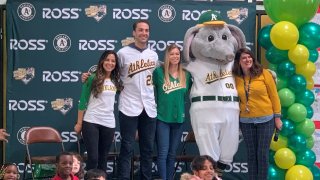 OAKLAND -- "Are you here for the A's?"
I was greeted with a big smile at the gates of Vincent Academy in Oakland on Tuesday and was guided to a room off to the left of the playground. The elementary school was hosting a reading assembly.
Before the assembly room was filled with the chatter of kids, it was draped with green and gold balloons complete with a balloon arch where A's first baseman Matt Olson and his girlfriend Nicole walked through and greet the students.
.@RubyMLopez, Nicole and her boyfriend Matt Olson reading to students at Vincent Academy in Oakland. Oly has not stopped smiling this entire time. pic.twitter.com/ovHswZxCUY— Jessica Kleinschmidt (@KleinschmidtJD) December 3, 2019
Emcee Ruby Lopez led the event where she, Olson and some of the students read "Dragons Love Tacos."
A Junie B. Jones reader as a kid, Olson read lines from the dragon taco tale which narrated important factoids including the folklore characters cannot eat spicy salsa.
Bet you didn't know that did you?
Most of us are used to watching the back-to-back Gold Glove Award recipient with at first making impressive plays, or ready to hit his 36th homer of the season, but this was different. You wouldn't be able to pry the smile off of his face if you tried.
Raymond was one of the students who read a few sentences from the book, Oly held the book up for him. As Raymond listed taco toppings, Oly offered up high-fives and cheers for him and each student that read.
Nicole's smile was just as infectious as she spoke on the importance of reading in her daily life and how imperative it is for the future.
Olson was attentive to everyone there which was difficult to do with Stomper stealing the show most of the time.
It's rather impossible to compete with a dabbing elephant mascot. Trust me, I've tried.
The reading assembly was par of the festive week where A's players are celebrating the holiday season by giving back to the community.
The kids left with green and gold A's pennants complete with holiday wishes from the organization and posed for photos with Olson as the event wound down.
[RELATED: Four A's players nominated for 'All-MLB team']
Right fielder Stephen Piscotty and his wife Carrie surprised first responders from around Oakland with a pizza party to give thanks to the community and the work they do.
The A's will continue their Week of Giving through Friday.
Copyright C