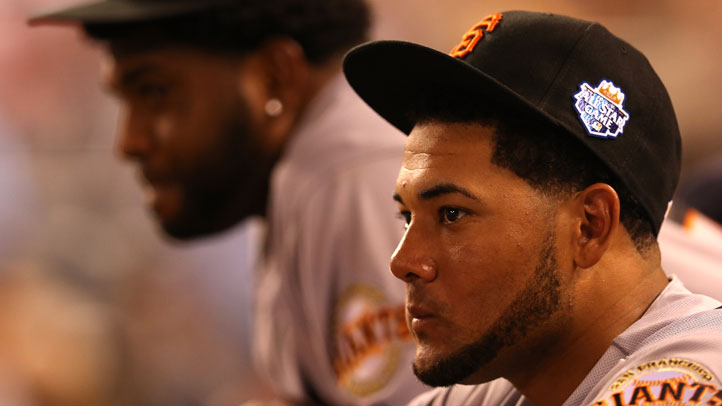 Melky Cabrera will not make the San Francisco Giants postseason roster, regardless of how far the Giants advance in the playoffs.
But that doesn't mean he'll be sitting at home, hoping his old team loses. Quite the contrary -- Melky says he'll be "rooting" for the Giants during October.
"While I am disappointed that I won't have the chance to join my team for the playoffs, I wish my teammates the best in the postseason and I'll be rooting hard for them to bring another World Championship to San Francisco!" Melky said in a statement.
Well that's nice of him. Of course, it doesn't hurt that the further the Giants go, the more money Melky stands to make when it comes to the team's postseason share.
Sometimes this is voted on by the players on the roster, but in Melky's case, that's a non-issue, as Henry Schulman of the San Francisco Chronicle points out.
Melky is eligible, per Schulman, to receive a postseason share. But, as always, there's a catch.
"The Joint Drug Agreement requires that a suspended players' share be reduced by the percentage of regular-season games he missed if — and this is key — the suspension also covers more than half of the team's postseason games," Schulman writes.
Make sense? Doubtful. But remember: Melky will be suspended for the first five games of the playoffs. Which means that if the Giants play nine or less postseason games, Melky's suspension is reduced, per Schulman, to 72.2 percent.
But if the Giants make it to 10 or more games? Then Melky gets a full postseason share and he wouldn't be denied that share, even by a vote from the players.
So it shouldn't be too shocking that Melky's rooting for the Giants, or even if he's just rooting for them to have to play five games each in the first two series.