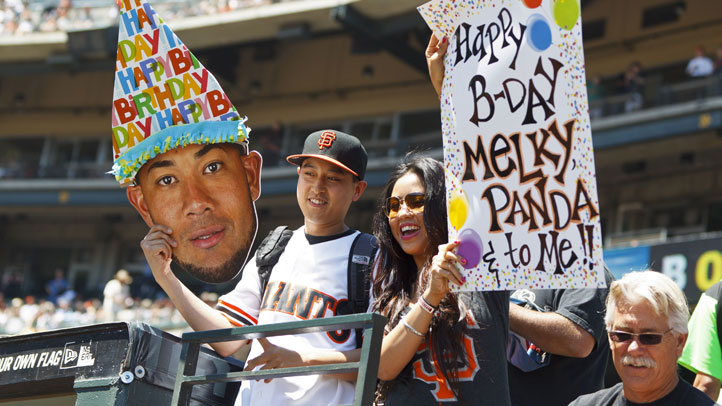 The San Francisco Giants aren't guaranteed a playoff spot just yet, but with a 7.5 game lead over the Dodgers in the National League West, things look pretty good.
So it's reasonable to wonder if the team will let suspended outfielder Melky Cabrera return to the roster once he's eligible, six games into the playoffs (Melky got a 50-game suspension when the Giants had 45 games remaining on their schedule).
According to CSNBayArea.com's Andrew Baggarly, the odds of Melky suiting up for the Giants again are not good.
"The club is not commenting on Cabrera's situation," Baggarly writes. "But all indications are that upper management has zero interest in the All-Star Game MVP playing another game in orange and black."
Cabrera left the team without discussing his suspension face-to-face with teammates. That, according to multiple reports, hasn't sat well with the rest of the people in the clubhouse.
But according to Hank Schulman of the San Francisco Chronicle, it's still possible that Melky could land his own postseason share from the team. In 2010, the players voted to let everyone land a share, which netted each player $317,000.
Schulman believes there is "some confirmed sentiment" to give Melky a share, because his All-Star performance helped the Giants push to where they are a s a team right now. At the very least, expect Melky to get a partial share.
But what of Melky's status as a free agent? As Schulman writes, there's a complicated bit of roster rigging that comes with his suspension. Once Melky is eligible, the Giants either have to put him on the 40-man roster or designate him for assignment. If the Giants DFA Melky, they can no longer tender him in the offseason with the hope of receiving a compensatory draft pick if he signs elsewhere.
Of course, that tender would be worth about $13 million, so it's possible that the Giants don't even want to consider putting it out there in the first place.
The team has galvanized since Melky's suspension, and while the Giants hasn't necessarily been "better" on offense, they have been surging in the standings. If the team's truly as angry at Melky as all reports indicate, it's possible they don't care what they have to give up in order to move on from him.