Aside from a two-story banner featuring Cal guard Layisha Clarendon, there weren't any signs of the history making run by the Cal Women's basketball team on campus.
On Monday night, Cal knocked off Georgia to qualify for the final four of the NCAA tournament - a first for the women in school history.
It was a dramatic overtime victory in Spokane, Washington. Cal won 65-62.
"For them to be able to show what they do on the big stage in front of national television, in front of a hundred million viewers across the country," said Cal assistant athletic director Teresa Gould, "It's a huge accomplishment for them."
The team will play either Tennessee or Louisville in New Orleans on Sunday.
Cal is planning a rally on Thursday before the team flies out.
But on Tuesday, the Berkeley campus was mostly school-as-usual, at least in outward appearances.
Sproul Plaza was filled with students, many carrying signs trumpeting candidates for upcoming school elections.
Backed by a pair of conga drummers, candidate Solomon Nwoche explained the absence of anything acknowledging the Cal women's history-making dash to the Final Four.
"I think because it's in the middle of mid-term season a lot of students probably weren't even aware," said Nwoche, waving a poster of himself dressed in a suit. But Nwoche was aware and excited, a fact he related launching into a stump speech. "I think a lot of students really support our team and want them to win," said Nwoche.
"And it's going to bring a lot of pride to the school." Maybe school pride was mostly undetectable in the real world, but students said the internet was a blazing sea of blue and gold.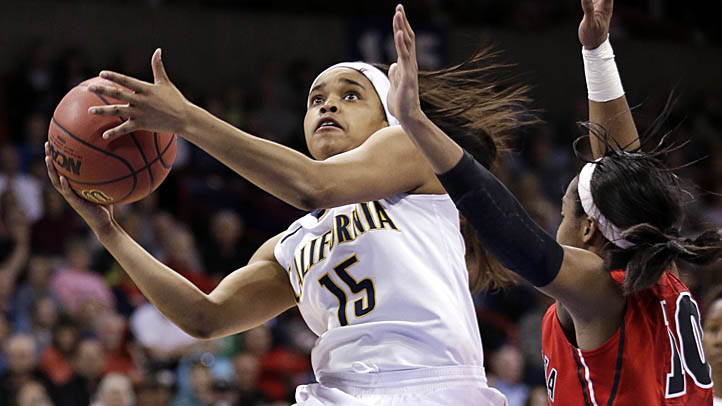 "If you're on social media networks you can see the Facebook comments, the Twitters," said student Deishar Young. "Everyone's excited and we're just waiting for them to get back home and celebrate."
The team actually was home, having arrived from their game in Spokane Washington at 4 a.m.
With a day-off for rest, and classes, players were planning to face the public in a news conference on Wednesday on campus.
Then, let the frenzy begin.