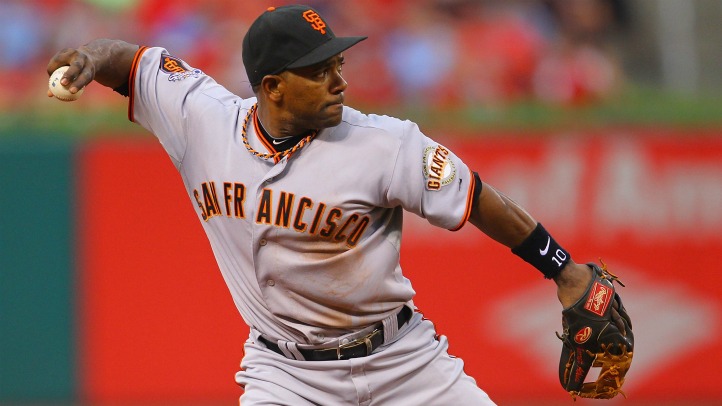 Miguel Tejada catches a lot (like, a ton) of flak from Giants fans, writers and anyone who watches or covers the team.
That's because he's old, overpaid and somehow dragging down the offense more than Edgar Renteria last year.
But it's important to remember that Miggy, for all his on-field flaws, is still a pretty good dude; he returned to the Dominican Republic during the All-Star Break to do some charity work with his foundation "Have Heart."
While there, he talked to several local newspapers about his current status with the Giants.
"I won't disgrace myself in order to continue playing," Tejada told Juan Mercado of the Dominican daily Hoy, as translated by Nick Collias of MLBTradeRumors.com. "With the pride that I have, I don't think anyone is going to see me embarrassing myself in baseball, when I feel that I'm not useful enough to be in the Major Leagues."
Yes, you might see why I included the thing about charity before that quote -- many a Giants fan would argue that Tejada's doing just that by hanging around and making a pile of money ($6 million or so) this season.
But there's some good news, because he's enjoying his time in first place!
"I'm used to having good years with losing teams," Tejada said, per Freddy Tapia from Listin Diario, also via Collias. "Now the opposite is happening, and the truth is that I'm enjoying it."
Right, right, I know. You're getting angrier.
There's not much anyone can do though, because the Giants' depth in the infield is pretty ravaged at this point, and there's not a whole lot of offensively-potent options available on the roster. (Or, really, any.)
Plus, targeting Jose Reyes of the Mets is fun and would result in some beefy offense for this season, but it would obviously be at a long-term cost for the Giants, and that's not something that makes a lot of sense coming off a World Series title, even if they're in first place.
Besides, Tejada told Tapia that he's "confident" his numbers will improve in the second half of the season.
His career splits actually back up this idea, as he's markedly improved after the All-Star Break versus before. (Tejada's counting stats are lower in the second half, but he's got nearly 1,000 less plate appearances with which to measure them; his AVG/OBP/SLG line is up across the board.)
Even more optimistically, his performance improved in 2010 during the second half, when he was playing with the Padres. That's at least indicative that he could improve for the Giants this year, given his age and the park he was hitting in last season.
And then there's this: Tejada said if he can land a World Series ring with the Giants in 2011, he'll likely retire before next year.
The tradeoff of having Miggy slouch around expensively at the plate for a full year versus winning a ring, obviously, is worth it, and probably a hundred-fold.
Plus, that would totally make it impossible for Brian Sabean to re-sign him next year.