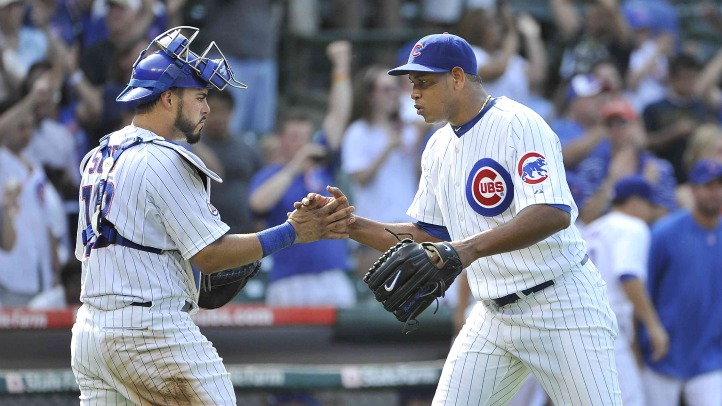 The Giants need to make some sort of trade to improve their offense. And they might want to make some sort of trade to improve their offense. But where will the twain meet?
Given the offensive needs, we feel obliged to bring you all the latest rumors, and the spice on the street is that San Francisco might want to take a dip in the NL Central catching pool by pursuing either one of the Cubs two catchers -- Geovany Soto and Koyie Hill -- or the Reds Ramon Hernandez.
Hank Schulman got the rumor mill rolling around on Wednesday afternoon, when he tweeted a couple of notes about the above players.
"Giants do like Ramon Hernandez," Schulman tweeted. "He'd be a great fit, though I can't fathom why contending Reds would move him."
The Reds would/might want to move Hernandez, as MLB Daily Dish's Satchel Price points out, if they believe their catching depth -- Ryan Hanigan and young stud Devin Mesoraco -- can withstand the loss of Hernandez.
Of course, they'd also need to get some value back for their catcher, and there's no guarantee that the Giants are tremendously open to handing out too much in exchange.
The Cubs situation gets even trickier, I think. But first, the news:
"Top Cubs evaluator watched last night's game," Schulman tweeted. "Cubs have good catchers in minors, could move Soto or Hill, tho I'm told no talks with Gs now."
See, Soto is locked up through 2013 and he's a good offensive catcher at a cheap price.
But that doesn't do the Giants much good down the road, where Soto draws a substantial amount of his value. (You may have heard of this Buster Posey fella that plays behind the plate by the Bay.)
And, furthermore, if the Cubs are going to sell on a guy with current and future value, you can bet they're going to want a reasonable rate on their return.
The Giants have shown they're not willing to spend too much, at least prospect-wise, when it comes to making deals with other teams, and that makes a NL-Central-based move from Brian Sabean seem like an unlikely event.