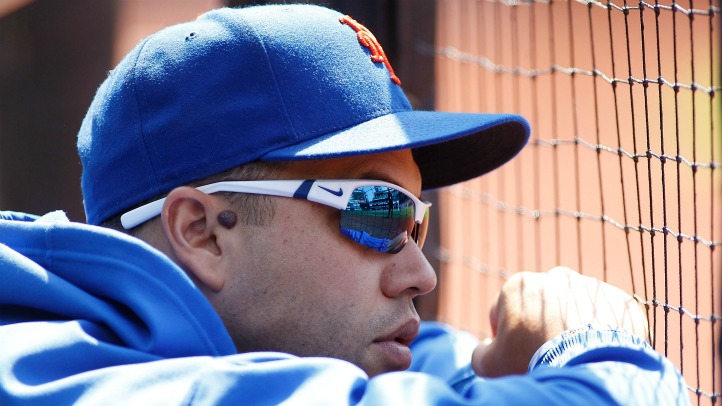 The Giants have long been considered one of the top teams interested in trading for Mets right-fielder Carlos Beltran.
It's a logical conclusion, considering how shoddy the Giants offense is, and how much of an impact Beltran had the last time he was dealt to a contender for a playoff run.
That year, the Houston Astros nearly made the 2004 World Series, but even Beltran's record-tying eight postseason home runs couldn't overcome Brad Lidge's mental meltdown against Albert Pujols.
It's unlikely that he'd have the exact same impact with San Francisco, but relative to the offense on the 2004 Astros, he might have a similar impact on the Giants' roster.
So here's some bad news: according to SI's Jon Heyman, the Giants are no longer the favorite for Beltran's services, as the Phillies and Red Sox have jumped in front of the pack.
The presumptive belief is that the Mets would target top-hitting prospect Dominic Brown (such a proposition makes me wonder how the guys at Philthy Stuff feel) and take on Beltran's contract.
Beltran, a free-agent-to-be, wouldn't necessarily torch the team year-in and year-out unless he re-signed with Philly in the off-season.
Heyman ranks the Giants as the fourth-most-likely suitor for Beltran's services, behind the Phils, the Red Sox and the Braves.
That's based on the fact that the Giants are still interested in the Twins' Michael Cuddyer and -- more importantly -- because the Giants don't like to deal prospects.
Though the offense is woefully undermanned right now in San Francisco, Beltran is only a rental and certainly not a guarantee to hang around.
Dealing someone like Brandon Belt or Gary Brown for him might boost the team's chances of winning right now, but it could also do long-term damage.
And besides, if the Giants can keep rolling like they have recently, we already know what a stout pitching staff can do to other offenses once it gets in the postseason.