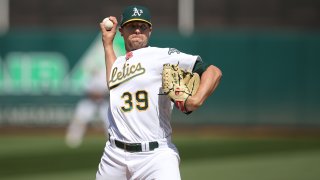 SAN FRANCISCO -- The Giants stunned much of their fan base Monday when they decided to let go of Kevin Pillar, but the veteran center fielder wasn't the only notable big leaguer to suddenly find himself a free agent.
Ahead of the deadline to offer contracts to arbitration-eligible players, 56 big leaguers were non-tendered. The list includes top draft picks, All-Stars, and a couple of familiar names. Former Giants Derek Law and Josh Osich were let go and now are on the open market.
Farhan Zaidi has four roster spots open as he heads to the Winter Meetings. That'll allow him to be active in the Rule 5 Draft if he wants, as well as take a long look at the non-tenders. Here are a few veterans who could make sense for the 2020 roster:
Cesar Hernandez
A switch-hitting second baseman who has experience at other positions, a .352 career on-base percentage, and 29 homers the past two seasons? That's an intriguing piece even before you consider that Hernandez played for Gabe Kapler the past two seasons.
The Giants brought Donovan Solano back but still could use middle infield depth in case Mauricio Dubon needs more time in the minors. Even if Dubon is the starting second baseman, they could use a left-handed bat to support Dubon, Solano and third baseman Evan Longoria, and Kapler could certainly use a former Phillie or two in the clubhouse to help ease the transition.
Blake Treinen
The former A's closer might be the most intriguing name on this list. Treinen posted one of the best relief seasons in history in 2018, but his ERA jumped from 0.78 to 4.91 in 2019 as his walk rate more than doubled. Few relievers have better raw stuff than Treinen, and you can bet there will be a strong interest in a pitcher who could be a difference-maker if he finds anything close to his 2018 form. The Giants can offer him a guaranteed shot in the late innings, with a clear path to the closer job if Treinen gets off to a good start.
Kevin Gausman
The fourth overall pick in the 2012 draft, Gausman is the type of pitcher a lot of front offices will look at and wonder, "What if we could get him on track?"
Gausman, a 28-year-old right-hander, had a 5.72 ERA for the Braves and Reds last season but has had stretches of sustained success as a big-league starter. He had a 2.87 ERA in 10 second-half starts for the Braves just a year ago.
Regardless of what Madison Bumgarner decides, the Giants have enough rotation flexibility to take a shot on a player or two like Gausman. If they hit on one, they could have a heck of a trade chip in July. Aaron Sanchez (Astros) and Taijuan Walker (Diamondbacks) are others who fit this mold. Both are super-talented but coming off injuries.
Jason Adam
Most Giants fans have likely never heard of Adam, a 28-year-old who had a 2.91 ERA in 23 relief appearances for the Blue Jays. The right-hander has been in the minors for seven years but has piled up strikeouts the past two. Sam Selman had a somewhat similar background and found success in Triple-A last season before making it to the big leagues for the Giants.
Jimmy Nelson
The 30-year-old right-hander is just two years removed from posting a 3.49 ERA and 3.05 WHIP for the Brewers. Nelson missed all of the 2018 season with a shoulder injury and struggled in scattered appearances when he returned to the mound last season, but Zaidi likes taking chances on guys like this. The Giants claimed Tyler Anderson after an injury-marred 2019 season and might have had him in their 2020 rotation had he agreed to a deal Monday.
Yimi Garcia
Zaidi has brought in a few former Dodgers -- Solano was a success story last year -- and Garcia also is familiar with Kapler. The right-hander had a 3.61 ERA and 0.86 WHIP last season, striking out more than a batter per inning. He gave up a ton of homers, but what if MLB unjuices the ball?
Domingo Santana
Some Giants people had an interest in Santana when he was in Milwaukee, but he ended up in Seattle, where he posted a .253/.321/.441 slash line with 21 homers last season. The 27-year-old was worth 3.3 WAR in 2017 but has been worth just one Win Above Replacement the rest of his career, in large part because of serious issues with the glove.
Santana played left field and right in Seattle, but he was worth negative-10 Defensive Runs Saved in left and negative-7 in right.
[RELATED: What Giants CF plans are after Pillar non-tender]
The Giants of old would put anyone with a pulse in left field, but that may not be necessary after the 2019 discoveries of Mike Yastrzemski and Alex Dickerson. Still, this club needs right-handed power, and Santana has a career .473 slugging percentage against lefties.
Catcher To Be Named Later
The Giants need to replace Stephen Vogt, and they haven't seemed all that ready to hand the job to Aramis Garcia. Nobody will be as clean a fit as Vogt, a great clubhouse guy who hit left-handed and could platoon a bit with Buster Posey, but there are a few veterans who became free agents Monday, including Josh Phegley, John Ryan Murphy and Kevin Plawecki.
Copyright C