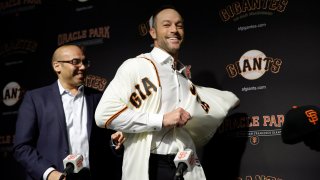 The Giants' coaching staff under manager Gabe Kapler is starting to take shape.
The Athletic's Andrew Baggarly reported Sunday that San Francisco was in negotiations with Indians defensive coordinator Kai Correa, and sources told NBC Sports Bay Area's Alex Pavlovic on Wednesday that Brian Bannister, a former big leaguer who spent the previous five seasons with the Red Sox, will join the Giants as their director of pitching.
Speaking of pitching, the Giants appear to be on the hunt for a new pitching coach. And their search seems far and wide.
D1Baseball's Kendall Rogers reported Wednesday that the Giants targeted the University of Georgia's pitching coach Sean Kenny for the same role in the big leagues. But, UGA made sure Kenny stayed in Athens.
SOURCES: The @SFGiants have targeted several college and pro pitching minds for its pitching coach job, including @BaseballUGA's Sean Kenny, who has done a terrific job. #Georgia made sure Kenny didn't get on a plane to interview with the #Giants, however. Great news for #UGA.— Kendall Rogers (@KendallRogers) December 4, 2019
Kendall says the Giants have looked at several candidates from college and the pros, and Kenny looks like a prime coach on the rise. The former 17th-round pick of the Mets became Georgia's pitching coach before the 2018 season and instantly made a huge impact.
Georgia's pitching staff lowered its team ERA 1.05 points to 3.97 in Kenny's first year on the job, and set a school record with a .236 opponent's batting average. That number dropped to a lowly .200 last season, as UGA's ERA fell to 3.24 while setting a school record with 601 strikeouts.
[RELATED: Report: Twins, White Sox 'heaviest suitors' for MadBum]
The Giants haven't formally announced that Curt Young will not return for a third season as their pitching coach, but it was expected that Kapler would bring in several new coaches. The only known coach to come back next season is Ron Wotus, who will be in his 33rd year with the Giants organization.
Bench coach Hensley Meulens has joined the Mets, and hitting coach Alonzo Powell accepted a job in Japan in the same role.
Copyright C