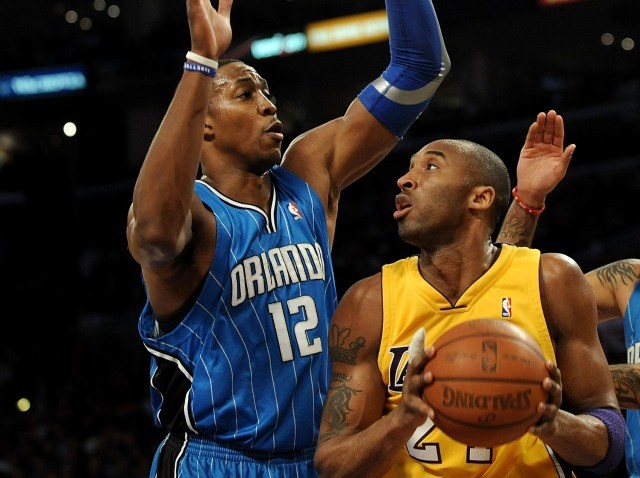 The rosters for the 2011 NBA All-Star Game have been announced and it contains a familiar cast of characters, even in a few of them are sporting different uniforms this time around.
Kobe Bryant of the Los Angeles Lakers and Dwight Howard of the Orlando Magic will lead their respective conferences into the contest in Los Angeles next month. Bryant - a three-time All-Star game MVP and this year's top vote-getter - will get to play in front of a raucous home crowd at the Staples Center in his record-tying 13th straight appearance in the game.
Joining Bryant on the West roster will be New Orleans Hornets guard Chris Paul, Oklahoma City's Kevin Durant, Carmelo Anthony of the Denver Nuggets, and Houston Rockets' center Yao Ming. Ming, who has only played in five games this season due to injury, will be replaced next week by commissioner David Stern. Andrew Bynum of the Lakers is considered to be the leader for Ming's spot.
Howard will team with the Miami Heat's dynamic duo of LeBron James and Dwyane Wade, the Chicago Bull's Derrick Rose and Amare Stoudemire of the New York Knicks.
This year's team of Eastern Conference stars is full of firsts. James and Wade - the 2010 All-Star Game MVP - become the first set of Eastern Conference teammates to start since Wade and Shaquille O'Neal started together for the Heat in 2007. Rose, the Bulls dynamic guard, becomes the first Chicago player to start the game since Michael Jordan in 1998. And Stoudemire, the explosive power forward who has energized a moribund New York franchise, becomes the first Knicks player to start in the game since Patrick Ewing in 1992.
With the exception of Ming, the starters for both teams are among the league's best in the major statistical categories. Durant, Stoudemire, James, Wade, Bryant, Rose and Anthony are all in the top 10 in scoring; Paul and Rose are in the top 10 in assists and Howard is in the top 10 in rebounding.
The reserves for the game will be selected by the head coach for each conference. Gregg Popovich of San Antonio will lead the West while the head coach for the East will be determined by which team has the best conference record through games ending February 6.
The 2011 All-Star game will air on TNT at 7:00 p.m. on Sunday, February 20.
Selected Reading: Sportsline, CNNSI, ESPN