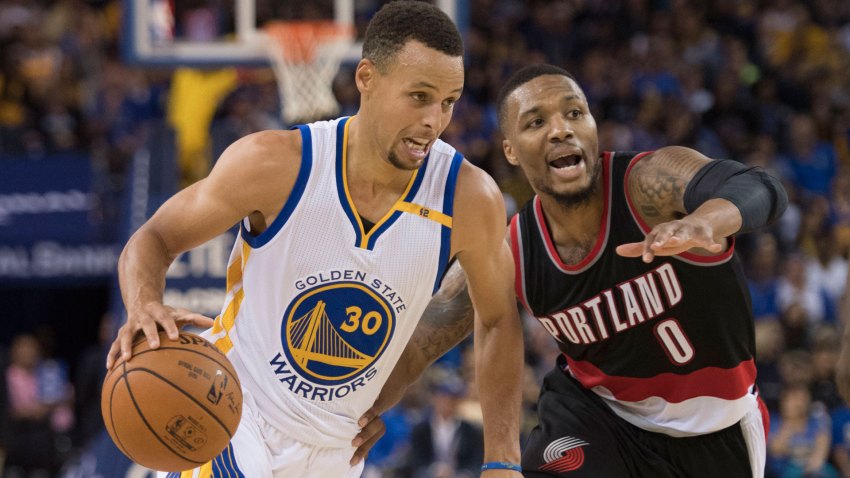 OAKLAND – There is just enough history to raise the emotional stakes whenever the Warriors and Trail Blazers meet, and that will be the case once again Saturday night.
That this game is at Oracle Arena only makes it that much better, as the venue is walking distance from the Oakland neighborhood where Portland guard Damian Lillard grew up and to which he remains closely connected.
The Warriors (23-4) and Blazers (13-15) waged fierce battle in the Western Conference semifinals last May, with the Warriors prevailing in five.
The Warriors, however, won't forget that their worst loss last season was at the hands of the Blazers, a 137-105 mashing in Portland in which Lillard scored a career-high 51 points.
BETTING LINE
Warriors by 14
MATCHUP TO WATCH
Stephen Curry vs. Lillard. Two of the best point guards in the league, and they generate riveting competition. The Oakland native always wants to show well in his hometown. But Curry considers Oracle his turf, and he fights to defend it. Lillard must win this battle for Portland to have a chance at victory.
INJURY REPORT
Warriors: C Zaza Pachulia (R wrist contusion) is listed as questionable. C/F David West (R hip contusion) is listed as doubtful.
Blazers: F Al-Farouq Aminu (back spasms) is listed as doubtful. C Festus Ezeli (L knee rehab) is listed as out.
LAST 10
Warriors: 8-2. Blazers: 4-6.
SERIES HISTORY
The Warriors triumphed in the first meeting this season, 127-104, on Nov. 1 at Moda Center in Portland. They've won the last three and 12 of 15, including the last four in a row in Oakland.
THREE THINGS TO WATCH
Battling backcourts. It's generally thought that the Warriors, with Klay Thompson and Curry, have the league's best backcourt. Portland, with CJ McCollum and Lillard, may be No. 2. Because there is no pass-first point guard among the four, there is plenty of crossmatching when the teams meet.
Scoreboard pyrotechnics. The Warriors are No. 1 in field goals and scoring, but the Blazers are top-five in both categories. Portland, however, is dead last in defensive rating. This is one of those matchups where the teams could combine for 250 points.
Big Ed at the 4? With starter Aminu listed as doubtful, the Blazers project Ed Davis to start at power forward. Davis, at 6-10, 245 pounds, is appreciably larger than Aminu. Size tends not to matter much with 6-7 Draymond Green, who is only two days removed from defending 7-3 Kristaps Porzingis of the Knicks.
Copyright CSNBY - CSN BAY