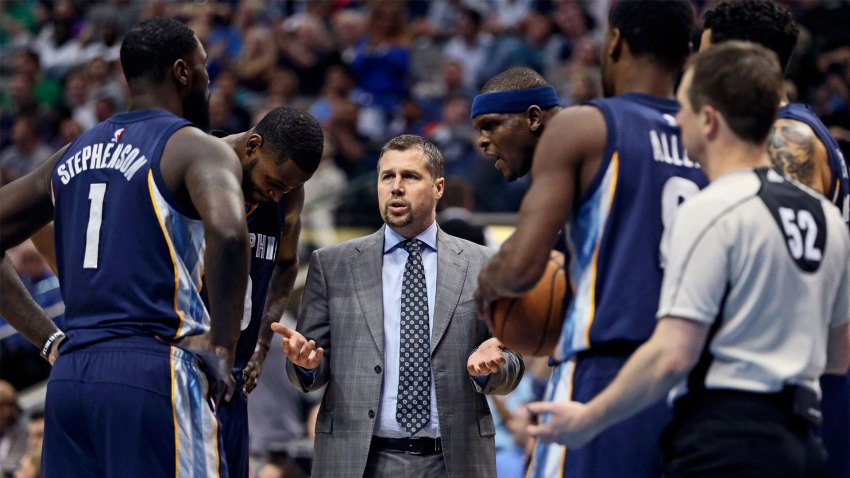 Welcome home coach Joerger, your visiting locker room is down the hall to the left.
After nine seasons in Memphis, including the last three as the head coach of the Grizzlies, Dave Joerger returns to FedEx Forum for the the first time as the head coach of the Sacramento Kings Friday night.
The Kings are coming off their worst performances of the year. Playing without DeMarcus Cousins, Rudy Gay and Ben McLemore, the Kings were walloped by the Rockets Wednesday night in Houston by a final of 132-98.
Despite missing starting point guard Mike Conley Jr., the Grizzlies have won seven of their last eight, including an impressive 93-85 win over the NBA Champion Cleveland Cavaliers on Wednesday.
OPENING LINE
Grizzlies by 5.5
MATCHUP TO WATCH
DeMarcus Cousins vs. Marc Gasol -- Cousins has been a beast all season long and he comes in well rested after sitting out Wednesday night's game as a healthy scratch. But he draws one of the stoutest defensive fronts in the game. Gasol is averaging a career-high 19.8 points per game while helping to carry the scoring void left by Mike Conley's injury. After shooting just 66 total 3-pointers in his first eight seasons in the NBA, the versatile big out of Spain has gone 41-for-90 (45.6 percent) from long range this season.
WHERE THEY STAND
Kings: 9-16, third place in Pacific
Grizzlies: 18-9, third place in Southwest
INJURY REPORT
Kings: SF Rudy (hip flexor) is out, SG Ben McLemore (quad contusion) is probable.
Grizzlies: PG Mike Conley Jr. (back) listed as doubtful but went through shootaround and hopes to play after missing previous nine games, SF Chandler Parsons (knee) doubtful, F Brandon Wright (ankle) out, F Deyonta Davis (foot) out, James Ennis (calf) probable.
SERIES HISTORY
Memphis swept the season series against Sacramento 3-0 lead last year. The Kings hold a 43-35 record against the Grizzlies all-time.
QUOTE
"Lot of friends, lot of good times, you know, nine-years there. Kids basically - their whole life that they can remember is there. I'm excited to see some friends and some neighbors and some old coworkers." -Dave Joerger on his return to Memphis
Copyright CSNBY - CSN BAY