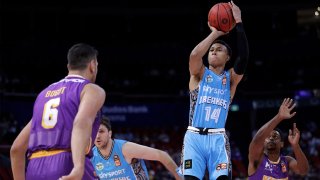 Entering Monday, the Warriors (4-17) are a half-game ahead of the Hawks (4-16) and Knicks (4-16) for the worst record in the NBA. As Steph Curry continues to rehab, and the young Dubs grow as a team, plenty can change.
But this season's Golden State squad seems destined for a high draft pick for the first time since selecting Harrison Barnes at No. 7 overall in 2012.
Next season's squad will resemble more of the dominant roster fans became accustomed to seeing. Curry will be back, as will fellow Splash Brother Klay Thompson, who could miss the entire 2019-20 season while rehabbing a torn ACL. They will be joined by Draymond Green, Kevon Looney and other familiar names.
There won't be many holes to fill for a team expected to pick atop the draft. Adding a top prospect who could compete right away will be quite the luxury, and the Warriors could certainly find that this coming June.
So, who should general manager Bob Myers and the rest of the front office have their eyes on? ESPN's Jonathan Givony and Mike Schmitz gave the Warriors guard RJ Hampton at No. 5 overall, and that could make plenty of sense.
ESPN uses their Basketball Power Index to create the draft order, so in this scenario, the Knicks, Grizzlies, Hornets and Hawks all are picking ahead of Golden State. And guards LaMelo Ball, Anthony Edwards and Cole Anthony, as well as center James Wiseman, have come off the board. That leaves the Warriors choosing the 6-foot-5 Hampton, who could serve as both a guard and wing.
Hampton, 18, opted to play professionally for the New Zealand Breakers of Australia's NBL instead of going to college. Ball, who also plays in the NBL, gets more attention and puts up bigger numbers, but Hampton has less margin for error and might be a highly underrated prospect.
Through 11 games, Hampton is averaging 10 points, 4.4 rebounds and 2.6 assists over 22.6 minutes per game. Per 36 minutes, he's averaging 15.9 points, 6.9 rebounds and 4.2 assists.
RJ Hampton: On a mission in transition ⛹️‍♂️💨#NBL20 #ILLatNZB pic.twitter.com/xQjn5c6fRS— NBL (@NBL) November 30, 2019
Hampton and Ball recently battled for the second time in the NBL, and while Ball recorded a triple-double, Hampton scored 12 points, four rebounds and two assists in 24 minutes and was plus-9. Ball was minus-13 in plus-minus. Hampton was seen diving on the floor and fighting for rebounds as his team won, 91-79.
After a season full of lessons and losses, the Warriors will want a prospect who they can trust right away. Hampton already is playing professionally against grown men, and is showing his desire to play defense and do the little things to win games.
His jump shot will need to continue to improve, though that shouldn't be a huge concern for teams in the draft. Hampton already has shown he has a feel for the game and a willingness to win, which should go a long way.
RJ Hampton is real, real nice 🤘🏾 (📽️: @NBL) pic.twitter.com/TnoaC5qNnW— SLAM (@SLAMonline) November 24, 2019
[RELATED: Kerr to attend Draymond's MSU jersey retirement ceremony]
The Athletic's Anthony Slater reported in late November that Myers is planning a trip to watch Ball and Hampton in person. NBC Sports' Tom Haberstroh personally believes Hampton is the better fit.
We're nearly seven months away from the NBA draft, however, Myers might find his man when he sees Hampton play.
Copyright C