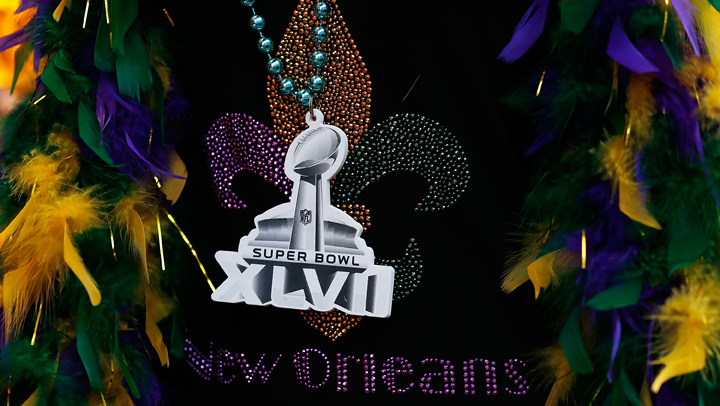 NBC Bay Area and Comcast SportsNet Bay Area have announced the networks will simulcast 49ers Postgame Live, "the official post-game show of the San Francisco 49ers" presented by Esurance following Super Bowl XLVII on Sunday, Feb. 3 at 6:30 p.m. PT (approx.).
The live post-game show originating from New Orleans will begin immediately after the game with in-depth game analysis, locker room interviews and full coverage of coaches' and players' press conferences.
Also, NBC Bay Area News will have a team of journalists throughout the Bay Area providing local post-game coverage.
49ers Post-game Live will feature Northern California's most complete 49ers on-air team: host Dave Feldman (@FeldyCSN); analysts Dwight Clark (@DwightC87), Bill Romanowski (@billromanowski) and Dennis Brown; reporters Mindi Bach (@MBachCSN) and Ahmed Fareed (@AhmedFareedCSN); and CSNBayArea.com's 49ers Insider Matt Maiocco (@MaioccoCSN) and Senior Insider Ray Ratto (@RattoCSN).
In addition, NBC Bay Area and Comcast SportsNet will team up to produce a prime-time special 49ers Quest for Six which will air on NBC Bay area on Saturday Feb. 2 at 9 p.m. PT.
Live from New Orleans, the special will feature the Bay Area's foremost 49ers expert analysts and reporters, who will have the latest news and information as kickoff approaches.
49ers Quest for Six will take an in-depth look at Colin Kaepernick's role in the team's journey to New Orleans, and will also feature commentary from brothers Jim and John Harbaugh hours before their historic match up.
NBC Bay Area also features sports segments in all newscasts anchored by Comcast SportsNet's Dave Feldman, Jim Kozimor and Ahmed Fareed live from New Orleans.
Throughout Super Bowl week, tune into Comcast SportsNet Bay Area, the home of "Authentic Bay Area Sports" and the official cable television home of the San Francisco 49ers, for comprehensive, wall-to-wall coverage with SportsNet Central, Chronicle Live, 49ers Central, 49ers Press Conference Live, 49ers Pregame Live and 49ers Post-game Live originating from New Orleans.
In total, Comcast SportsNet Bay Area will air more than 100 hours of 49ers Super Bowl programming, more than any local or national television outlet.