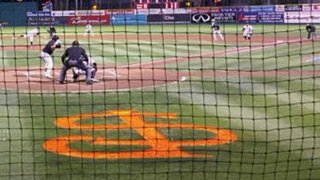 Giants invite four teams as minor league affiliates for 2021 originally appeared on NBC Sports Bayarea
The cuts being made to minor league baseball led to a shakeup with Giants affiliates on Wednesday.
The Giants announced they have extended invites to four minor league organizations to be their affiliates. If they are all accepted, the High-A team will be in Eugene, Oregon, with the San Jose Giants moving down to Low-A. Sacramento remains the Triple-A affiliate and Richmond will still be Double-A after some uncertainty earlier in the process. The moves came as about 40 teams were cut from the minor leagues, with short-season affiliates -- the Giants had Salem-Keizer in Oregon -- being eliminated.
"It's a privilege to extend invitations to the four communities in Sacramento, Richmond, Eugene and San Jose to become our affiliates under Major League Baseball's new player development structure," president of baseball operations Farhan Zaidi said in a statement. "Our affiliate relationships with Sacramento, Richmond and San Jose have provided outstanding player development environments while producing many on-field successes. We're excited to now have the opportunity to develop the same type of rewarding partnership with Eugene."
Eugene had been home to the Cubs' short-season affiliate the previous six seasons, and before that the Padres had a team there for 14 years. PK Park is right next door to Autzen Stadium, the massive home of the Oregon Ducks' football team, and is about two hours south of Portland, making it an ideal location for the Giants' new affiliate. They now will have three full-season teams on the West Coast, which will make life easier for team officials hoping to see their top prospects, as well as veterans who might need a quick rehab assignment.
RELATED: Giants re-sign Tromp, invite 11 others to spring training
The Giants lost their affiliations with Low-A Augusta and Salem-Keizer, which was the first professional stop for nearly every top prospect to come through the system in recent years.
Copyright RSN