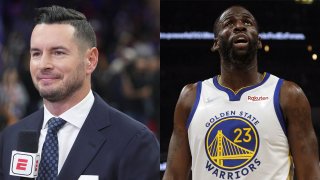 Redick emphatically defends Draymond in heated debate with Russo originally appeared on NBC Sports Bayarea
Draymond Green has the basketball world buzzing again after what he did and said off the court on Tuesday night against the Memphis Grizzlies.
In the Warriors' 106-101 Western Conference semifinals loss to the Grizzlies at FedExForum, Green left the court with blood dripping down his face after taking an elbow from Grizzlies center Xavier Tillman midway through the first quarter.
On his way to the locker room to get stitches, Green flipped off the Memphis fans in attendance who were booing him, causing quite the stir in the arena and online. After the game, Draymond defended his actions, accepting any potential fine from the NBA.
Chris "Mad Dog" Russo appeared on First Take alongside former NBA All-Star JJ Redick Wednesday morning, where the two got into a heated back-and-forth over Draymond's fiery personality on and off the court after Russo proclaimed that Green should "shut up and play."
"Shut up and play, will ya please? America is tired of Draymond Green and I deal with him constantly," Russo said. "The fans ... San Francisco fans different story. Oh, they (other NBA fans) are so tired of this. Be quiet and play."
Redick responded to Russo's comments with impassioned support for Draymond.
"That has the same sort of connotations that the 'shut up and dribble' crowd has towards athletes," Redick said. "I have a real problem with that, specifically Draymond. The idea that ... you do realize the guy has a very very popular podcast he hosts where he talks himself for the majority of the episode and people listen to that. He signed a talent deal with Turner because people want to hear what Draymond has to say. The reason they want to hear what Draymond has to say is because just like in his press conference, he is real, authentic and unfiltered and as a player, he is real, authentic and unfiltered.
"The edge that he carries himself with, he's talking about this since Game 1, Klay Thompson has talked about this since Game 1, it's what makes him great. It's what makes him a future Hall of Famer. It's the reason he is who he is. It's just like saying 'hey, Ja Morant, stop dancing when your teammate is making a three.' The reason Ja Morant is great is because he plays with joy and fun and a carefree attitude and a fearlessness. You can't take away what makes a player great. So there's no 'shut up and play.'"
Green made it clear he approved of Redick's comments.
Russo responded to Reddick by claiming that there are plenty of older NBA fans who do not take kindly to personalities such as Green's.
"He is so polarizing," Russo said in response. "I think for all the fans that you think listen to the podcast, I can give you 50 million fans who would say the same thing: 'enough already.' He is a polarizing athlete. Sure, there are younger fans, especially who like to hear him play. I'll give you a large segment of older fans who have followed the NBA for 60 years, who, this is not a political scenario or a race situation who followed Wilt [Chamberlain] and grew up a Knicks fan who loved Clyde [Drexler] and [Willis] Reed ..." 
Redick's response highlighted the potential undertones that some might interpret from Russo's point of view.
"I'm not saying it's a race situation, I'm saying the fans you're talking about, they talk about athletes that way, how you just talked about an athlete," Redick responded. "People on Fox News talk about athletes that way, that's my issue. I don't actually care about the fans that watched Bob Cousy play or watched Wilt play, I don't care. I appreciate that they've been NBA fans that long, but I don't appreciate the undertone."
Conversations such as these have taken place for years. Passionate, outspoken athletes such as Draymond have always been at the center of controversy and the spawn of social media has given such athletes an even bigger platform to express their thoughts away from the court/field.
Redick and Russo each represent different schools of thought, with one being more traditional and the other embracing the outspoken, passionate nature of athletes.
Copyright RSN