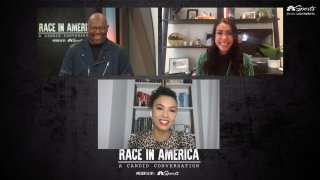 Kendra, Malika Andrews living the dream in sports journalism originally appeared on NBC Sports Bayarea
Programming note: Watch "Race in America: A Candid Conversation" on Thursday, Feb. 4 after "Warriors Postgame Live" on NBC Sports Bay Area.
Every dream starts somewhere. A backyard. A bathroom mirror. A bedroom ceiling. Behind closed eyes in the middle of the night.For the Andrews sisters, Malika and Kendra, the dreams started in their Oakland living room while watching sports with their parents.
In less than a decade, Kendra's dream became Malika's dream. And now it's reality for both.
Each makes a living in sports journalism, and both appear on "Race in America: A Candid Conversation," which follows Warriors programming Thursday night on NBC Sports Bay Area.
Malika, 26, is an NBA reporter at ESPN, where she has been since 2018, after stints at the Chicago Tribune and The New York Times. A University of Portland graduate, she does TV reports from games, appears on their roster of programs and also writes for the website.
Kendra, 23, joined NBC Sports Bay Area in January in the role of Warriors reporter after a year with The Athletic. The Gonzaga University graduate writes for the website, cohosts the Dubs Talk podcast and will make her debut this month on the full panel of Warriors-related TV programming.
Kendra, it must be said, is lucky to have life after Malika's misguided childhood attempt to silence her. Sisterhood can be impetuous. We'll explain in a moment.
First, though, the dreams of two African-American girls.
Their father, Mike, was a personal trainer and urged his daughters to play sports, primarily to build good physical and mental habits.
"We kind of tried everything growing up, at the urging of our father," Malika says. "But then there was also the fandom side. My dad was an avid basketball fan – is an avid basketball fan."
Mike is a Raiders fan. His wife Caren, having grown up in San Francisco, is a 49ers fan. There was engagement with every sport, but the entire household was behind the local NBA team.
"Growing up in Oakland and the Bay Area," Kendra says, "there's such a rich sports culture, countless sports teams, two football teams, two baseball teams, hockey, basketball – all of it. That was our family time. When Malika and I were done with our homework, when my dad got home from work, when dinner was all cleaned up, that's when we would hang out together as a family of four, watching the Warriors. We grew up in a split 49ers and Raiders household, and that's how we got quality time together."
Kendra was first to think beyond watching sports and visualize a career. In her junior year of high school, she was with her dad watching sports programming on TV when struck by an epiphany.
"I turned to my dad and I said, 'Dad, that's someone's job. The person we're watching on TV, they get paid to do that," she recalls. "And my dad was like, 'Yeah, that's what they do.' And at that point, that's when people were asking me, 'Where do you want to go to school, what do you want to study and what do you want to do?' And I didn't know.
"But I always enjoyed sports . . . and I always enjoyed writing and talking. So, I thought 'OK, this could be something that I want to explore."
Already in college, Malika was making friends, many of whom were on the staff of The Beacon, the school newspaper. Kendra planted the seed.
"I like to say it was her idea, but I did it first," Malika says.
She not only joined the staff but, focus fused with ambition, went from staff writer to sports editor to editor-in-chief. Thanks to those family nights watching sports on TV and the suggestion of her younger sis, she was on her way.
"I didn't necessarily think that that was going to be a domino that led me to this industry that now I can't imagine my life without," Malika says. "But that's how it went for me. I fell in love with reporting. It's like, man, this is awesome."
Now, about Kendra's near-death experience. She snored as a child, and little Malika concocted a solution.
"We shared a room, and my young self did not understand that when I put a pillow over her face, it wouldn't just stop the snoring. It would temporarily stop the breathing," Malika says. "It wasn't malicious. My father walked in on it one time and very quickly and loudly and swiftly told me how not OK that was."
The child survived. The sisters, best friends, are thriving and living proof that with luck and ambition and sweat, real life can replicate fantasy.
Copyright RSN