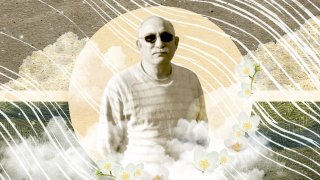 Kerr anguishes with survivors of VTA mass shooting victims originally appeared on NBC Sports Bayarea
A few days after Abdolvahab Alaghmandan was buried, murdered by a white man once flagged by U.S. Customs agents discerning a potential for violence, his son, Soheil, is in his mother's living room heartbroken and grappling with his own experience with such officials.
Iranian and heavily bearded, Soheil is accustomed to getting pulled aside for questioning at American airport security checkpoints. He expects it. He has been in this country long enough to realize that such treatment is, unfortunately, an ugly part of his life in America.
"Happens every time," he told NBC Sports Bay Area.
Though seems unlikely that a famous white man would feel Soheil's pain, Golden State Warriors coach Steve Kerr surely does.
Each knows the agony and sense of helplessness after being told that his father was shot and killed while at work.
Each knows the feeling of being identified and screened, through no fault of their own, by federal authorities viewing them as potential safety threats.
"I actually used to be, when traveling internationally, frequently flagged because my passport said I was born in Beirut," Kerr told NBC Sports Bay Area this week. "So, I frequently got pulled aside and frisked. I got the 'extra' treatment and the questions. They would even ask me, 'Why were you born in Beirut?'"
One of the ugliest parts of life in America – and, to be fair, beyond – is that a large segment of its citizens is forced to cope with enduring stereotypes.
Skin color. Ethnicity. Hair color. Gender. Facial hair. Headdress. Birthplace.
Sam Cassidy, a 57-year-old white man, faced no such barrier. He was not born to Iranian parents. He was not born to parents living in Beirut. When Cassidy was detained by U.S. Customs and Border Protection officials upon returning from the Philippines in 2016, it reportedly was because of the sex trade in that region. In the process, agents discovered books on terrorism and notes making clear his disdain for the Santa Clara Valley Transportation Agency – his place of employment.
That's where, on May 26, Cassidy grabbed a few weapons from the arsenal in his home, got into his truck and drove to the VTA's Guadalupe Light Rail yard and turned his guns on Abdi and eight other coworkers before apparently killing himself as police responded. It is the deadliest mass shooting in Bay Area history.
It "doesn't appear" that follow-up action was taken after Cassidy's 2016 brush with federal authorities, a Homeland Security official recently conceded to CNN.
"If that guy had been Muslim," Kerr said, "he would have been sent to Guantanamo."
Instead, Cassidy walked away. He even took another trip to the Philippines. His anger simmered until he reached executional rage, setting fire to his home, leaving eight victims for dead and their families shattered. The standard official response – "thoughts and prayers" – is so utterly insufficient to ease their knots of anguish.
There is zero evidence that federal authorities followed the phrase they urge of the public – "If you see something, say something" – after their detainment of Cassidy. Local authorities and the VTA say they were not alerted to any potential for concern.
"Had this information been shared with local law enforcement, there would have been an intervention with Mr. Cassidy," Santa Clara County District Attorney Jeff Rosen told Bay Area News Group last week. "After speaking with Mr. Cassidy, there may at that point have been enough evidence for a gun-violence restraining order. There may have been information for them to refer Mr. Cassidy to mental-health services or some other therapeutic alternative."
Whether there would have been an intercession is not known. But no one in position to act locally was given a reason for caution.
Abdi's family and friends around the globe are grieving the loss of a respected member of the community, their pain intensified by the widespread belief that it could have been prevented. And the possibility that the shooter was granted privilege that likely would have been denied them.
"My dad did everything the way it's supposed to be done," Soheil said. "He worked hard, came to America and got a job and was a good employee. And this happens here."
Kerr is a vocal proponent of stricter gun legislation, a response to the 1984 assassination of his father, Malcolm, who was serving as president of American University in Beirut when he was killed on campus.
Through five-plus months of 2021, there have been more than 200 mass shootings in the United States. In every case, Kerr says, his immediate thoughts are of the survivors.
"They are all people, just like us, mothers and fathers and sisters and brothers and sons and daughters," he said. "And the devastation that something like this brings to a family is immense. My family felt it. We know exactly what it feels like and how awful it is. So, I always think about the people involved.
"And then, sadly, the next thing I think of is, 'I'm not surprised.' It doesn't surprise me. None of these things surprise me, because this is who we are. This is our country."
Copyright RSN