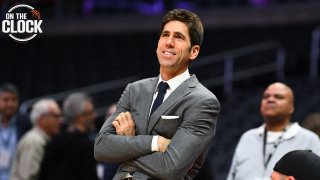 Warriors taking time, tip from Obama in finishing draft board originally appeared on NBC Sports Bayarea
By the time it's the Warriors' turn to select No. 2 overall in next week's NBA draft, Golden State will have had almost five additional months to ruminate over the selection from when the draft was originally scheduled.
Bob Myers, the Warriors' general manager and president of basketball operations, said Wednesday that his front office will use every minute of that time before deciding who to pick. In fact, they're still finalizing their draft board.
"We don't have to draft today, so in a sense, we don't need it to be firm," Myers told reporters in a video conference. "We have ideas about what we like and what we don't like or what makes sense or what doesn't make sense, so we're looking at it. There's some players we want to still see and talk to."
Download and subscribe to the Runnin' Plays Podcast
Myers recalled advice he received from someone who worked for former President Barack Obama, as they noted that one of Obama's maxims was to "never make a decision until you have to." The Warriors, and Myers, are taking that to heart during a pre-draft process disrupted by a still-raging global pandemic.
Golden State has had more time, sure, but that hasn't meant more film from collegiate prospects or more opportunities to meet with them in person. Each NBA team is allowed 10 in-person visits, and Myers said the Warriors are on track to use all of them before the draft on Nov. 18.
Myers admitted the entire process has been "very different ... from anything we've ever experienced," as is the Warriors' place so high in the draft lottery. If the Warriors hang on and pick a player at No. 2, they will be the franchise's highest draft selection since drafting Joe Smith first overall in 1995.
Unlike most of their peers in the lottery, the Warriors have championship aspirations next season. Ideally, Golden State would select a player who could contribute to a contender now and lead one down the road, but there might not be that kind of player in this draft.
"There's no Tim Duncan where a guy was a senior and he's going to be great automatically and you win now and you win for the next 20 years," Myers said. "You kind of have to guess on both ends of that question. You're also guessing -- we could argue who's the win-now guy. We could think it's a guy, you could, and you could be wrong. Most of these guys aren't seniors.
"I know there's a narrative about who is and who isn't, but at the same time, I think you owe it to the organization to build towards the future if there's not an obvious win-now guy. And if the win-now guy helps you win four regular-season games [this season], what's the point of that?"
Myers said he wasn't sure if some playoff teams expected their rookies, a la the Miami Heat's Tyler Herro, to contribute as much as they did in their first seasons, and the GM shared the Warriors didn't know second-round pick Eric Paschall "could do what he did" making the NBA's All-Rookie First Team. Debates will continue up until the start of the regular season about which prospect is poised to make an immediate impact, but Myers doesn't seem too interested in it.
Even in these circumstances, the draft remains a guessing game. And in a most unusual year, the Warriors are going to use all the time they have before it's their turn to play.
Copyright RSN