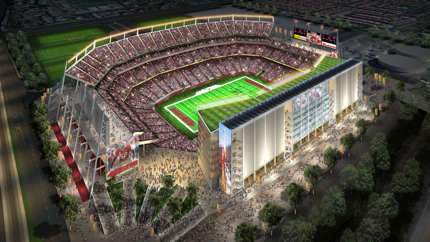 The new collective bargaining agreement still needs to be approved by the players and team owners, but according to Talking Points, it does include possible funding for the new 49ers stadium.
Tim Kawakami says the CBA has three "stadium credits" in it, for future potential sites. Kawakami says the CBA does not specifically refer to the 49ers stadium in Santa Clara, but rather area. His source says the three areas cited as potential loan recipients are the Bay Area, Los Angeles and possibly Minnesota.
Kawakami writes, "The credits are a precursor to the establishment of a loan program. It's not the players doing the loaning, but the CBA had to create a mechanism so that loan money is removed from the percentage split with the players."
We will probably get a better idea of what it all means in the near future when the CBA is approved.