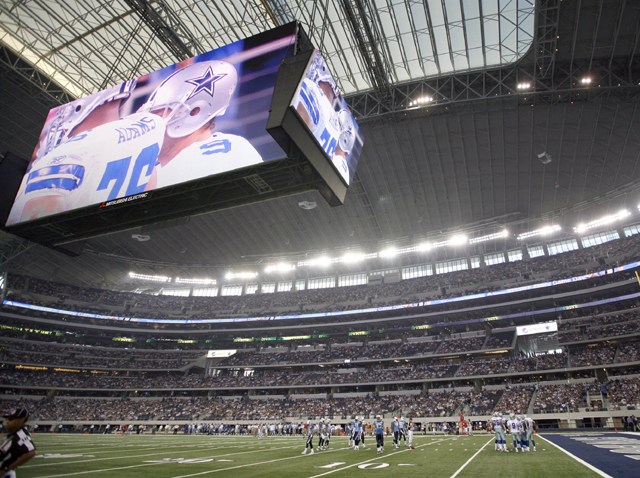 The day before the San Francisco 49ers play at the new Cowboys Stadium, a freaking-out NFL commissioner quickly threw down a new set of rules governing punts that hit the "ginormous HDTV" scoreboard above the field.
The new league rules say that "If a ball in play strikes a video board, guide wire, sky cam, or any other object," the down will be replayed as a do-over. The critical change is that the time gets put back on the game clock, and once the football hits the "object" the play does not count in any way. It is therefore not possible to run down the game clock by punting into the video screen repeatedly.
Additionally, coaches can throw their red replay flag if they feel the officials did not see the ball hitting the screen. If the ball did hit the screen, they win the challenge.
But how often will they want to risk one of their challenge flags on a punt? Unless something disastrous happened, one could see a coach just chewing out an official and otherwise letting it slide.
The rule change is an immediate concern for the 49ers, who play at Cowboys Stadium in a Saturday night preseason game against Dallas. Niners punter Andy Lee swore that no scoreboard-hitting thoughts will cross his mind. "It's something you can't worry about," Lee told the San Jose Mercury News. "You have to go out there and not change anything. Otherwise you might start messing things up. I'm trying to get ready for the regular season."
He then immediately changed his story. "Maybe in warm-ups," Lee said, possibly joking.
Niners Nation is all over the story, concocting a "drinking game" for use watching Saturday's 49ers-Cowboys contest. Among it's many hilarious rules are "One shot for every time the broadcast cuts to a shot of Jerry Jones just before an Andy Lee punt," and, "One additional shot if the 49ers coverage team didn't even bother to pursue the kick knowing it was going to hit the scoreboard."
Anyone playing that drinking game Saturday is going to be lit up like a scoreboard.
Joe Kukura is a freelance writer who will be playing that drinking game. Playing to lose.
Copyright FREEL - NBC Local Media