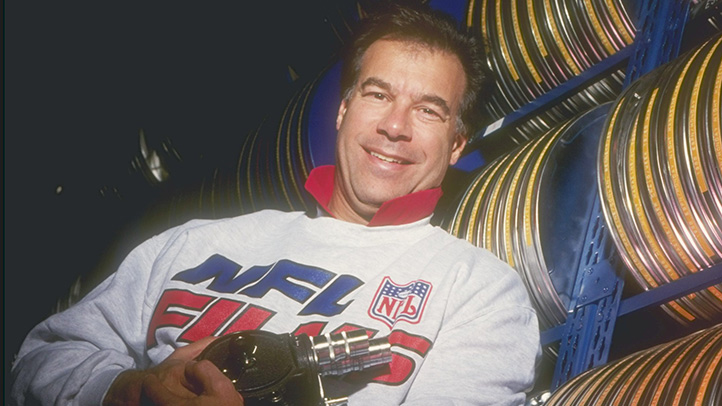 Steve Sabol, the president and long-time creative force of NFL Films, died Tuesday at the age of 69 after battling brain cancer for more than a year.
The Philadelphia native started his cinematography career in 1964 by working for his father, Ed, who was the founder of NFL Films. Eventually Steve Sabol would take over the company from his father. He not only won 35 Emmy Awards, but became the face of many NFL Films documentaries, forever linking him to the game he loved.
"Steve Sabol was the creative genius behind the remarkable work of NFL Films," said NFL Commissioner Roger Goodell in a statement. "Steve's passion for football was matched by his incredible talent and energy. Steve's legacy will be part of the NFL forever. He was a major contributor to the success of the NFL, a man who changed the way we look at football and sports, and a great friend."
Sabol is credited with allowing football fans to see the game in ways never seen before, with the use of super-slow motion, wireless mics on players, reverse-angle replays, blooper films and custom-composed musical scores that turned normal football highlights into an artistic film.
NFL Network anchor Rich Eisen posted the following on Twitter upon learning the news of Sabol's passing:
"All of us here at @nflnetwork are crestfallen and mourn the loss of the genius and iconoclast Steve Sabol. May he rest in peace."
Other broadcasters and players shared similar thoughts.
From ESPN NFL reporter Adam Schefter: "The NFL lost one of its most influential figures and the world lost a great man. RIP, Steve Sabol."
Sabol was diagnosed with a brain tumor in March 2011, and just a few months later introduced his father during his Pro Football Hall of Fame enshrinement in Canton, Ohio. In November 2011 Steve and his father were inducted into the Philadelphia Sports Hall of Fame, and a month later Steve was inducted into the Sports Broadcasting Hall of Fame.